Queenie Mcmullan Public Speaking Competition
Mrs. Ann Laughlin and Mr. Ian McIlrath were the adjudicators at the annual Queenie McMullan Public Speaking Competition held in the Boardroom on Thursday, 10th October.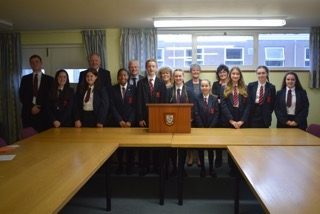 Amy Gregg (Year 11) won the Queenie McMullan Cup for the Best Overall Speaker and Mercedez Faustin-Clenaghan (Year 14) was Highly Commended in the Overall Section.
Jonathan Grimsley (Year 10) won the Linda Hunter Cup for the Best Novice and Katie McDonnell (Year 10) was Highly Commended.