Year 8 pupils are helped to adjust to life in their new school with an Induction Programme.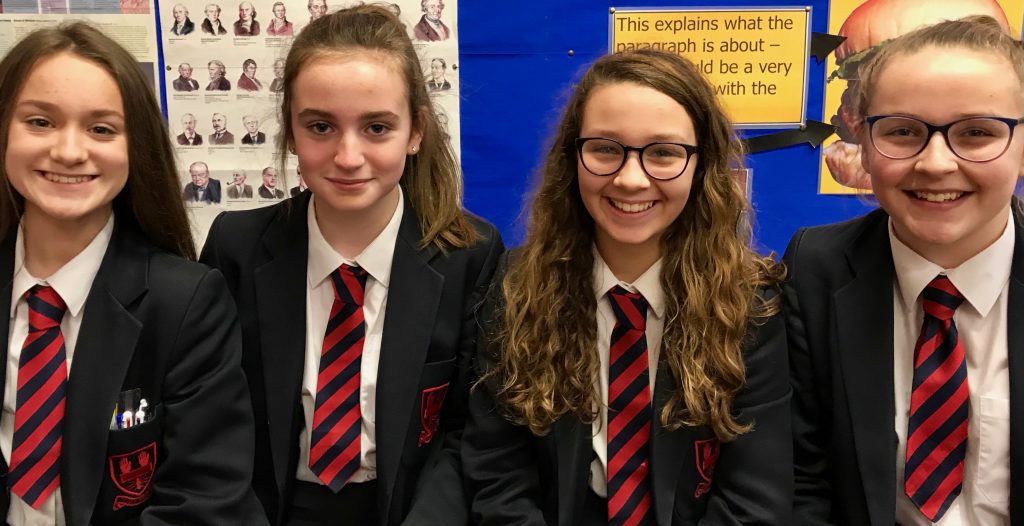 Specific support is provided by a team of senior pupils who have been trained as mentors and by staff such as the class tutors, as well as the Head of Year and Pastoral Assistant.

Special Arrangements for our  New Pupils
Year 8 Form Assembly instils a sense of community
Each Year 8 Tutor Group is assigned two Designated Staff and four Sixth Form Mentors
Year 8 pupils share a lunch period with Year 9 pupils only
Personal Health and Social Education programmes are delivered by specialist teachers
Specific Induction activities ensure inclusion of all and foster friendships
SUBJECTS  STUDIED  IN  YEAR  8
English

 

Drama

 

Mathematics

 

Science

 

Technology

 

Home  Economics

 

I.C.T.

 

French

 

Geography

 

History

 

Religious Education

Art

 

Music

 

Physical Education AND Games

 

Learning for Life and Work comprising:-

  Local and Global Citizenship,

  Education for Employability,

  Personal, Social and Health Education.

 

"Roots and Wings" – Skills Development
For each subject you will have a different teacher.

TUTORS:
In Year 8 you will have two tutors who take a special interest in your class.  In addition your Tutors will take your tutorial topics each week.  In class you will have the opportunity to get to know your Tutors and your classmates as you work through topics designed to help you to make the best use of your time at Ballymena Academy.
PEER MENTORS:
Your class will also have four Peer Mentors.  These are Year 14 pupils who are there to assist the Tutors and help you to settle in to school.
PASTORAL ADVISER:
The Pastoral Adviser, will work with your Tutor and with the Head of Year to check your progress in school.  She will be available should there be any circumstances where you need any help or advice.
HEAD OF YEAR:
Miss Forsythe is in charge of Year 8.  You will see her each morning in Form Assembly.  She has overall responsibility for your year group.  This means that she will follow your progress during your first year and discuss any matters of concern with you, your tutor and your parents.
CO-CURRICULAR ACTIVITIES (After School Clubs)
A full range of these is available for you to choose from.  Details will be given later.  Joining an after school club is a really good way to make new friends.  Everyone should try to go to at least one afternoon club.
HOMEWORK:
A Learning Organiser is provided so that you can easily record the homework you have to do and your Tutor will check that you know how to use the organiser effectively.