Awards Assembly
In assembly this morning we are recognising the achievements of many pupils in a number of different school-based activities.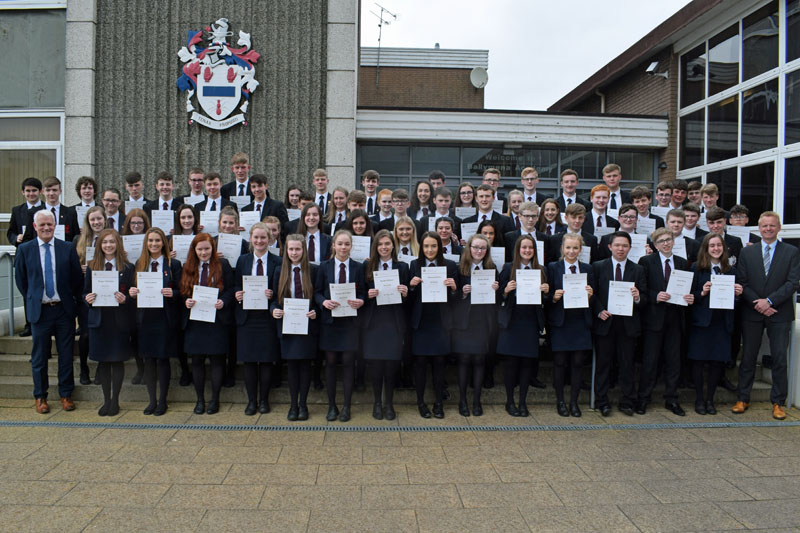 Such activities are a significant part of the life of our school and contribute to the all-round development of each pupil and to the vibrancy of the school community.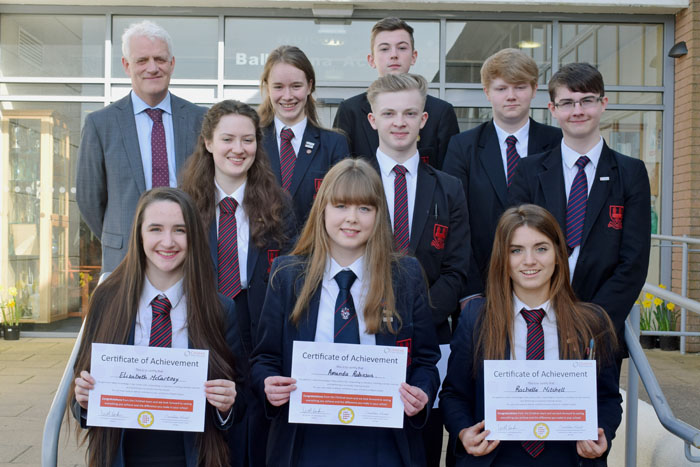 Childnet, Certificates of Achievement, were awarded to our Digital Leaders, in recognition of their e-safety knowledge in key on-line risks, for creating a kinder internet and for delivering a successful training session.
The PF Martin Achievement Awards, initiated by former Ballymena Academy Principal, Mr. Peter Martin, recognise pupils who have reached an exceptionally high standard in a curricular or co-curricular activity. Pupils receiving these awards are nominated by members of staff in charge of the activity and a strict set of criteria are applied to consider personal achievement, commitment and school representation. The nominations are considered by an Awards committee and subsequently by the Senior Leadership Team. Pupils can be awarded, badge, tie or pocket, according to the level of achievement.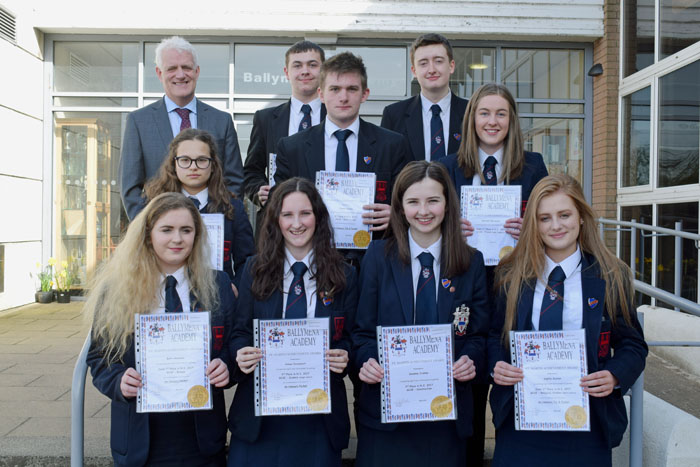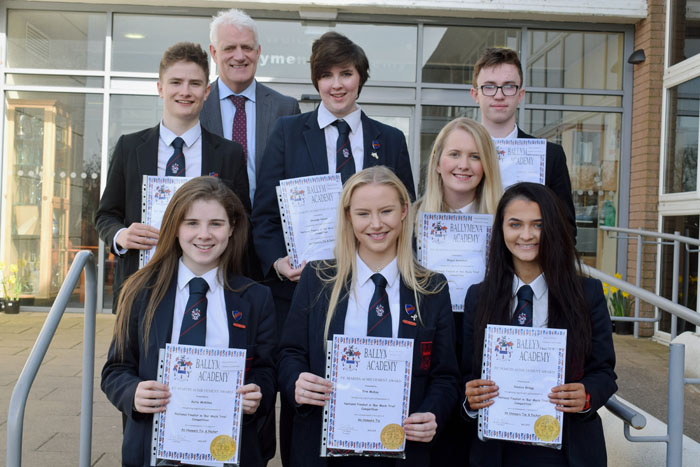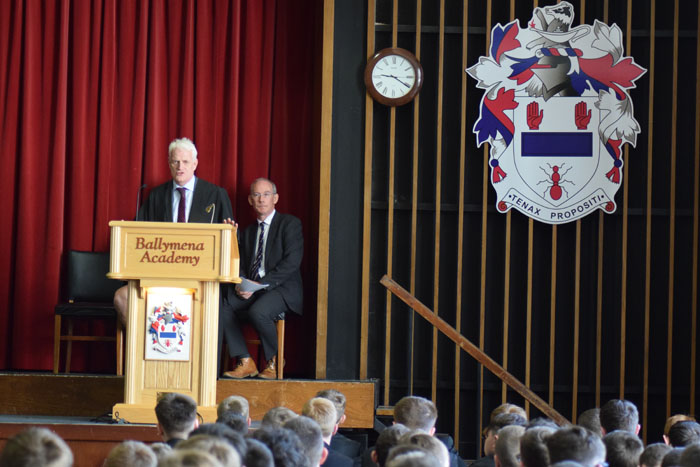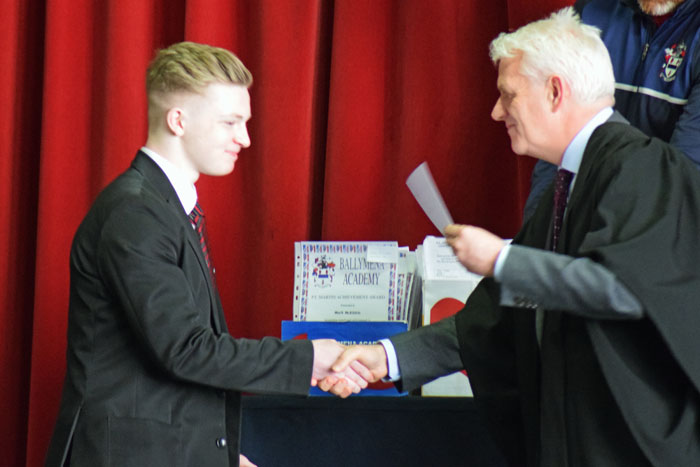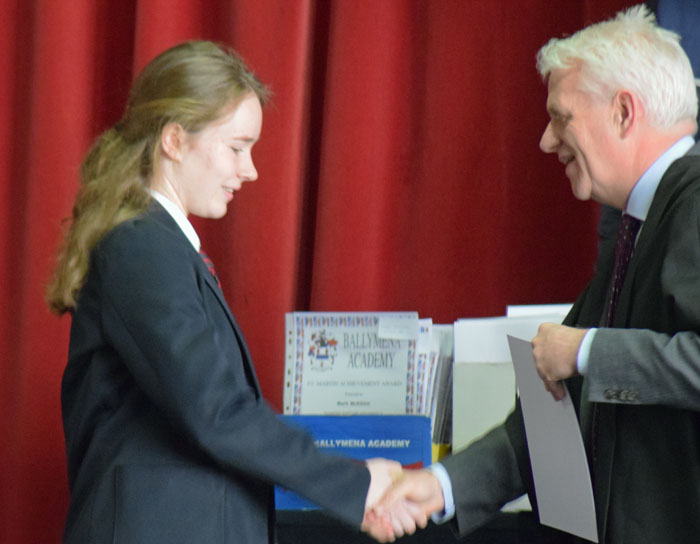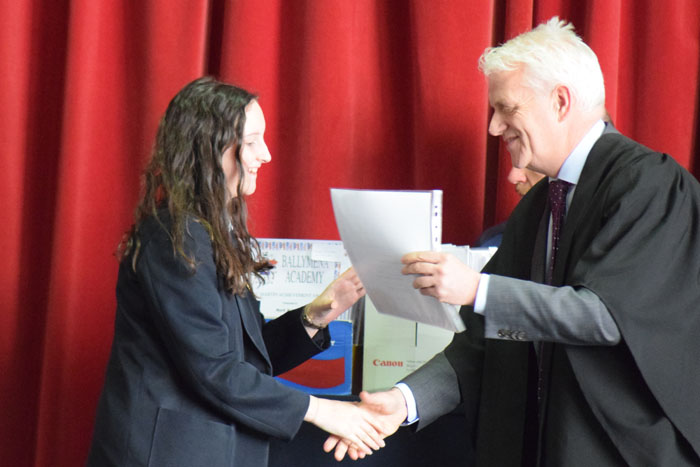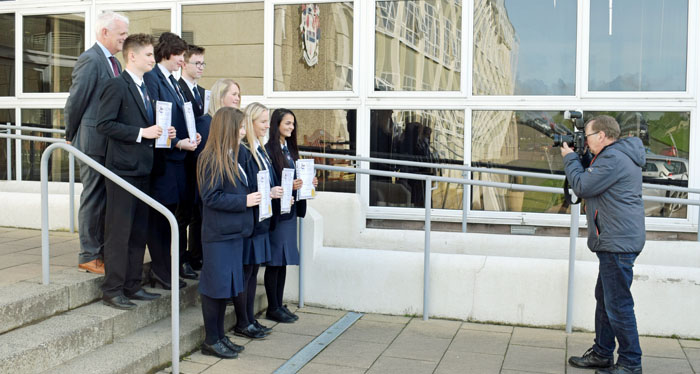 P.F. MARTIN ACHIEVEMENT AWARDS (MARCH/APRIL 2018)
Year

Group

Name
Area of

Award

Category
Award
13
DOHERTY, Anna
Sport
Hockey
Certificate – Re-award
12
AGNEW, Katie
Sport
Cross-Country
Certificate – Re-award
12
CRAIG, Katie
Sport
Hockey
Certificate – Re-award
11
ANDREWS, Frankie
Sport
Rugby

Medallion Shield Winners 2018

Hons. Tie/Pocket
11
ANDREWS, Harry
Sport
Rugby

Medallion Shield Winners 2018

Hons. Tie/Pocket
11
BAILIE, Tim
Sport
Rugby

Medallion Shield Winners 2018

Hons. Tie/Pocket
11
BROWNE, Patrick
Sport
Rugby

Medallion Shield Winners 2018

Hons. Tie/Pocket
11
COCHRANE, Jonathan
Sport
Rugby

Medallion Shield Winners 2018

Hons. Tie/Pocket
11
COOPER, Joshua
Sport
Rugby

Medallion Shield Winners 2018

Hons. Tie/Pocket
11
COSGROVE, Odhran
Sport
Rugby

Medallion Shield Winners 2018

Hons. Tie/Pocket
11
CRAIG, James
Sport
Rugby

Medallion Shield Winners 2018

Hons. Tie/Pocket
11
CRANSTON, Euan
Sport
Rugby

Medallion Shield Winners 2018

Hons. Tie/Pocket
11
DOUGLAS, Timothy
Sport
Rugby

Medallion Shield Winners 2018

Hons. Tie/Pocket
11
DRAIN, Joshua
Sport
Rugby

Medallion Shield Winners 2018

Hons. Tie/Pocket
11
FRENCH, Matthew
Sport
Rugby

Medallion Shield Winners 2018

Hons. Tie/Pocket
11
LAMONT, Adam
Sport
Rugby

Medallion Shield Winners 2018

Hons. Tie/Pocket
11
LAWTHER, Andrew
Sport
Rugby

Medallion Shield Winners 2018

Hons. Tie/Pocket
11
MALLON, Richard
Sport
Rugby

Medallion Shield Winners 2018

Hons. Tie/Pocket
11
MAWHINNEY, Joseph
Sport
Rugby

Medallion Shield Winners 2018

Hons. Tie/Pocket
11
McKAY, Ross
Sport
Rugby

Medallion Shield Winners 2018

Hons. Tie/Pocket
11
McLEAN, James
Sport
Rugby

Medallion Shield Winners 2018

Hons. Tie/Pocket
11
McNEILL, Callum
Sport
Rugby

Medallion Shield Winners 2018

Hons. Tie/Pocket
11
McPHERSON, Elliott
Sport
Rugby

Medallion Shield Winners 2018

Hons. Tie/Pocket
11
PYPER, Daniel
Sport
Rugby

Medallion Shield Winners 2018

Hons. Tie/Pocket
11
THOMPSON, Oliver
Sport
Rugby

Medallion Shield Winners 2018

Hons. Tie/Pocket
11
WRIGHT, James
Sport
Rugby

Medallion Shield Winners 2018

Hons. Tie/Pocket
10
MILLAR, Jordan
Sport
Rugby

Medallion Shield Winners 2018

Lapel Badge
11
HAMILTON, William
Sport
Showjumping
Honours Tie
11
SURGEONER, Tori
Sport
Showjumping
Honours Tie
9
BYRNE, Alex
Sport
Showjumping
Certificate Re-award
13
BAILIE, Grace
Music
Honours Tie
13
DAY, Timothy
Music
Honours Tie
13
TIPLEA, Anisia
Music

+ Other

Represented N.I. at U.K. Final of 'Big Bang' STEM Competition.
Honours Pocket
13
McKIBBIN, Mark
Music
Honours Tie
13
WATT, Niamh
Music
Honours Tie
12
DOWNEY, Alicia
Music
Honours Tie
12
HENDERSON, Samantha
Music
Honours Tie
12
McKANE, Ben
Music
Honours Tie
12
OLPHERT, Cameron
Music
Honours Tie
12
WILSON, Alex
Music
Honours Tie
11
GREGG, Luke
Music
Honours Tie
11
McCARTNEY, Rachel
Music
Honours Tie
10
OLPHERT, Caoilin
Music
Lapel Badge
14
FLEMING, Harry
Other
National Finalist in

'Bar Mock Trial'

Competition

Honours Tie
14
GREGG, Jessica
Other
National Finalist in

'Bar Mock Trial'

Competition

Hons. Tie/Pocket
14
KERNOHAN, Megan
Other
National Finalist in

'Bar Mock Trial'

Competition

Certificate – Re-award
14
McKAY, Erin
Other
National Finalist in

'Bar Mock Trial'

Competition

Honours Tie
14
McKILLEN, Katie
Other
National Finalist in

'Bar Mock Trial'

Competition

Hons. Tie/Pocket
14
NELSON, Shonagh
Other
National Finalist in

'Bar Mock Trial'

Competition

Hons. Tie/Pocket
13
DOHERTY, Martyn
Other
National Finalist in

'Bar Mock Trial'

Competition

Hons. Tie/Pocket
11
CHESNEY, Catherine
Other
Placed 1st in N.I. Final of 'Big School Cook Off' Competition.
Honours Tie and Pocket
11
STRONGE, Katherine
Other
Placed 1st in N.I. Final of 'Big School Cook Off' Competition.
Honours Tie and Pocket
13
MACAULAY, Rachael
Other
Represented N.I. at U.K. Final of 'Big Bang' STEM Competition.
Honours Pocket
13
CLINTON, Aaron
Academic
2nd place in N.I. in 2017 in GCSE History
Honours Pocket
13
CRABBE, Susanna
Academic
2nd place in N.I. in

2017 in GCSE

Construction

Certificate re-award
13
DAVENPORT, Aimee
Academic
2nd place in N.I. in

2017 in GCSE Science

(Single Award)

Honours Pocket
13
DICKEY, James
Academic
3rd place in N.I. in

2017 in GCSE

Construction

Honours Tie/Pocket
13
GASTON, Sophie
Academic
Joint 1st place in N.I. in 2017 GCSE Religious Studies (Short Course)
Honours Tie/Pocket
13
GREGG, Michael
Academic
Joint 1st place in N.I. in 2017 in GCSE Further Mathematics
Honours Pocket
13
HERBISON, Beth
Academic
Joint 1st place in N.I. in 2017 in GCSE Biology
Honours Pocket
13
MACAULAY, Rachael
Academic
Joint 1st place in N.I. in 2017 in GCSE French and History
Certificate – re-award.
13
TIPLEA, Anisia
Academic
Joint 3rd place in N.I. in 2017 in GCSE French
Certificate – re-award
Year Group

2016/17

14
McCURDY, Lois
Academic
2nd place in N.I. in 2017 in GCE

Health & Social Care

Honours Pocket
14
SIMPSON, Lyndsey
Academic
Joint 3rd place in N.I. in 2017 in GCE

English Literature

Honours Pocket
| | | | | | |
| --- | --- | --- | --- | --- | --- |
| 14 | BROWNE, Jonathan | Sport | Rugby | | Certificate – re-award |
| 14 | CORR, Rory | Sport | Rugby | | Honours Tie |
| 14 | FOSTER, Jordan | Sport | Rugby | | Honours Tie |
| 14 | GASTON, Harry | Sport | Rugby | | Honours Tie |
| 14 | GLASS, John | Sport | Rugby | | Certificate – re-award |
| 14 | HOUSTON, Bruce | Sport | Rugby | | Certificate – re-award |
| 14 | JORDAN, Oisin | Sport | Rugby | | Certificate – re-award |
| 14 | MARTIN, Tiarnan | Sport | Rugby | | Certificate – re-award |
| 14 | McAULEY, Joshua | Sport | Rugby | | Certificate – re-award |
| 14 | McCLEAN, James | Sport | Rugby | | Certificate – re-award |
| 14 | McGUCKIAN, Louis | Sport | Rugby | | Certificate – re-award |
| 14 | MOORE, Stewart | Sport | Rugby | | Certificate – re-award |
| 14 | RUDDOCK, Jamie | Sport | Rugby | | Honours Tie |
| 14 | SAVAGE, Ben | Sport | Rugby | | Certificate – re-award |
| 14 | THOMPSON, Mark | Sport | Rugby | | Certificate – re-award |
| 14 | WYLIE, Curtis | Sport | Rugby | | Honours Tie |
| 13 | HARGY, Patrick | Sport | Rugby | | Honours Tie |
| 13 | JOHNSTON, Ben | Sport | Rugby | | Honours Tie |
| 13 | McKINNEY, Alex | Sport | Rugby | | Honours Tie |