Ulster Schools' Swimming Championship Success
Congratulations to Year 8 pupil Thomas Evans, who won the Gold medal in the 12 year old boys 50m free event at the Ulster schools swimming gala, which was held at Bangor Aurora on Saturday.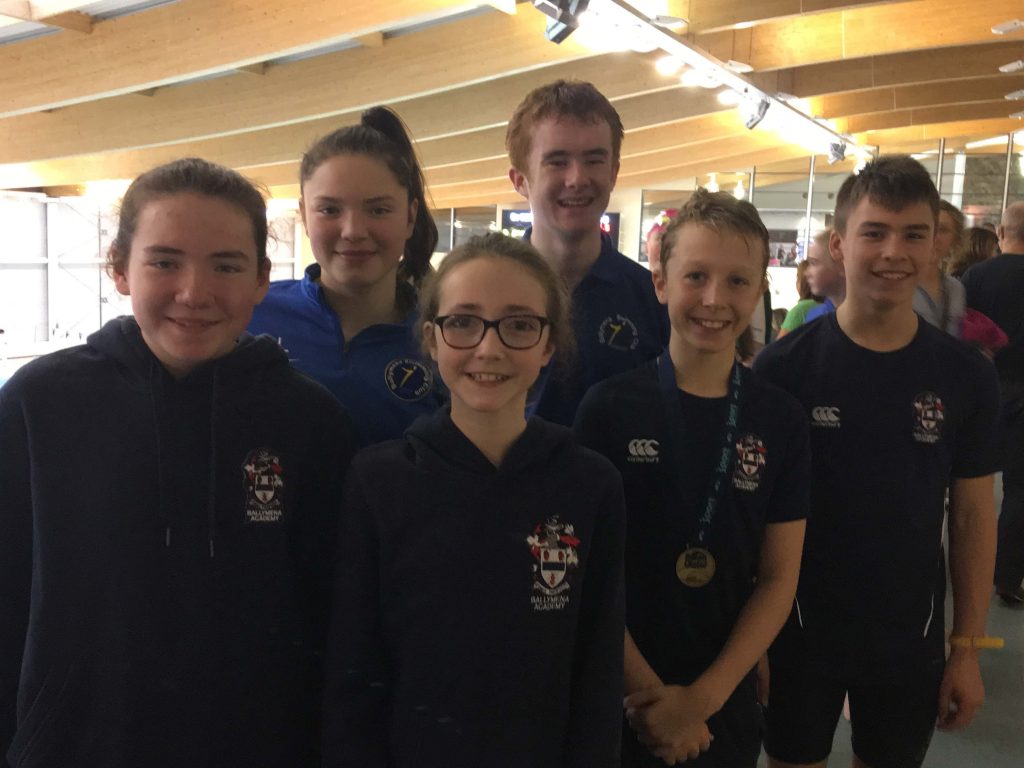 Thomas had another great personal best time in 50m breaststroke event and has qualified for the Irish Minor school's final in both these events. The Irish school's final will be held in the NAC, Dublin in February. We wish Thomas well for the finals in February.
Thomas Evans was back in the pool early on Sunday morning for two more personal best performances in 100m breaststroke and 100m freestyle to kick off the second day of competition.
He was joined by fellow Year 8 Molly Liggett who finished 22nd In the junior 100m breaststroke (Year 8-10's), and narrowly missed 100m fly final. Year 9 Gemma Clyde had two personal best swims in the 100m fly and 200m Individual Medley. As did Year 9's Samuel Wainwright in the 100m breaststroke and 100m fly. Matthew Laughlin Year 9 had a personal best in the junior 100m back & Year 10's Oonagh Lamont completed the morning with more great swims, special Congratulations for Oonagh who was 3rd, winning the junior Bronze medal in the 100m Breaststroke event.
In the Intermediate category pupils, Jack Adair, Aimee Hill, Sophie Leetch, Keri Hoey brought the long weekend of competition to a good close, with more personal best performances. Jack made the final and finished 8th in the intermediate and senior boys 100m breaststroke, Aimee narrowly missed the finals in the 100m fly. Sophie also had a personal best in 100m breaststroke and Keri Hoey who had a personal best in the 100m backcrawl was 10th overall in 200m Individual Medley.
At the end of last month Keri was selected and represented Ballymena Academy on the Ulster schools senior training camp to the London Aquatic centre. Twenty-four pupils from schools across the province spent the weekend training at the London Aquatic centre, which was home to the 2012 Olympic games. As well as training in the Olympic pool they enjoying some sightseeing in London. Keri was selected based on her results and great performances last season at the Ulster schools swimming competitions. Congratulations Keri on this achievement.
Well done all pupils on a busy weekend of competition in Bangor and a special thanks to Mrs Lamont for her help with our time keeping duties over the weekend.