Technology Challenge
On Thursday 15th March, 12 Technology & Design pupils from Year 10 took part in a Technology Challenge at NRC, Farm Lodge.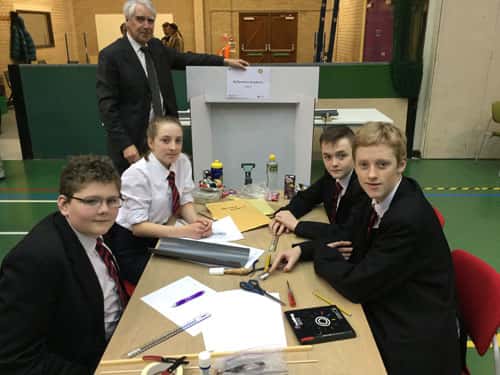 The competition was run by Rotary International in conjunction with Sentinus and NRC.
The pupils, who were in teams of 4, were given a challenge to design and make a remote controlled buggy that would clear debris from a pipe in less than 5 seconds.
The teams were given minimal materials and were awarded marks on the quality of their design pages, manufacture and operation of their buggy.
There was stiff competition from 17 teams from schools in the Ballymena area but, in the end, Ballymena Academy Team 1 were victorious, with Team 3 placed third. All of our teams worked very hard and we are immensely proud of the 12 pupils who competed.
Team 1 Ayesha Darragh, John Kennedy, Christopher Leetch, Alexander Campbell
Team 2 Aimee Hill, Jonathan Campbell, Brandon McCaughan, Mark Hunter
Team 3 Matilda McClelland, Kai Kirk, Joel Grimsley, Caleb Logan.