Millennium Volunteers
Thirty one Year 14 pupils have attained their 200 hour Gold Millennium Volunteers Awards this year. The presentation of these certificates took place on Wednesday 6th March at Belfast City Hall.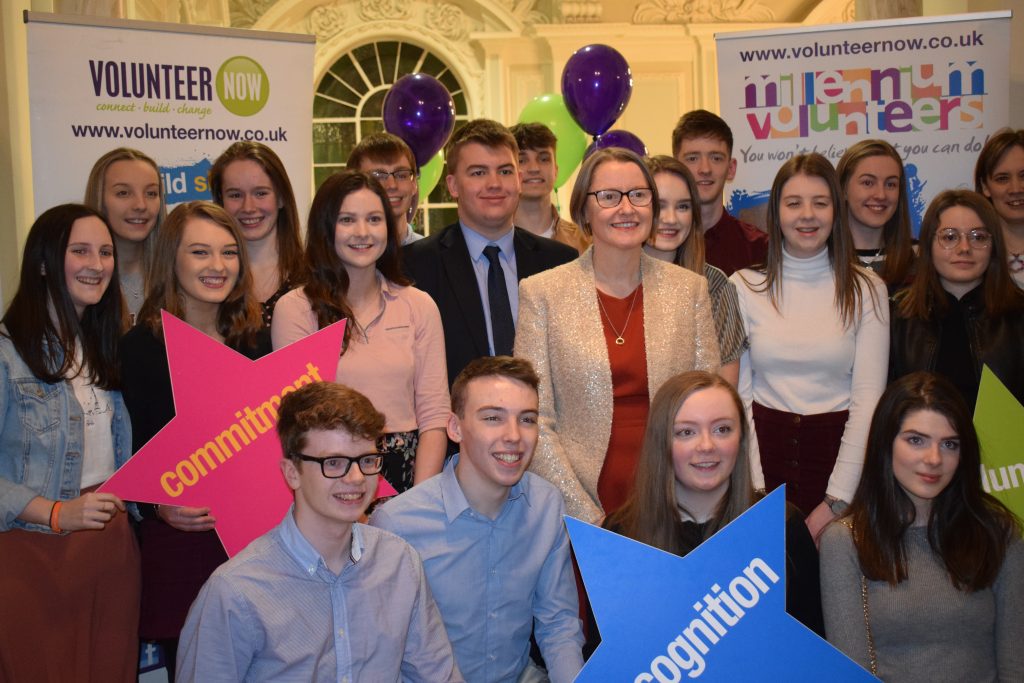 Compère for the evening was Lucia Mee, an #iwill ambassador, who has had three liver transplants and gone on to raise awareness of organ donation in Northern Ireland, founding the Live Loudly Donate Proudly campaign.
Cathy Galway from the Department of Education congratulated the young volunteers on their commitment to volunteering and highlighted its importance to the local community. She also spoke about the benefits, both educational and social, individual volunteers gain such as developing skills and making new friends.
Guest speaker Anthony Bennett from 'Anthony Inspires' shared his story of suffering multiple life threatening infections and how he recovered to go on to encourage others to get involved in teamwork and fundraising. He shared his keys to moving forward and being successful: the importance of motivation, moving forward bit by bit, overcoming fear and teamwork.
213 young people from all over Northern Ireland were then presented with their gold certificates and had photographs taken with Volunteer Now's CEO Denise Hayward or guest speaker Anthony Bennett.
The pupils who gained their 200 hours gold certificates are Grace Bailie, Simon Bennett, Juliet Cameron, Aimee Davenport, Sophie Dennison, Crawford Fairfield, Emma Flanagan, Anna Gordon, Sarah Harris, Hannah Johnston, Joshua R. Logan, Rachael Macauley, Lydia Manson, Emma Martin, Cian Mawhinney, Grace McBurney, Craig McClintock, Lois McClintock, Lucy McCormill, Anna McGahey, Bethan McLaughlin, Katie Moorehead, Adam Morrison, Chloe Orr, Erin Park, Amanda Robinson, James Poston, Matt Smith, Amy Turner and Niamh Watt.