#IWill Week – Day 1
Over the past week the #iwill campaign has been celebrated across the UK.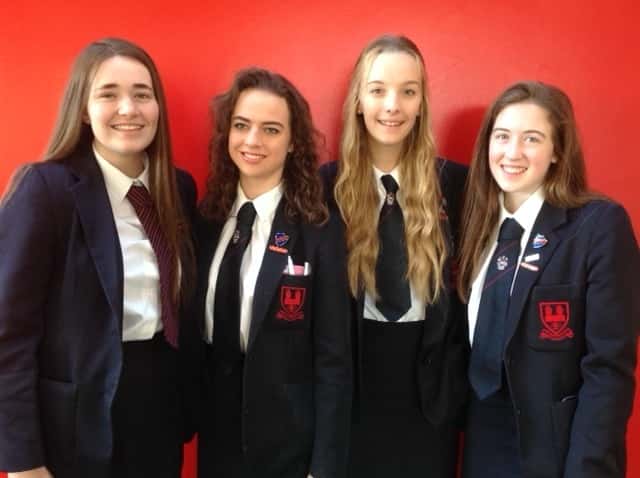 Ballymena Academy Sixth Form students are participating in the #iwill campaign which is a UK-wide campaign that aims to make social action part of life for as many 10 to 20 year-olds as possible by the year 2020. Coordinated by the charity Step Up To Serve and led by HRH The Prince of Wales, the campaign is spreading the word about the benefits of youth social action, working to embed it in the journey of young people and create fresh opportunities for participation.
In 2015 Ballymena Academy pledged to become an #iwill school. In support of the #will campaign the school aims to:
provide opportunities for all young people, particularly those in Years 13 and 14, to take part in internal school volunteering and social action opportunities
foster positive relationships with external volunteers involving organisations and provide all students, particularly those in Years 13 and 14, with information on volunteering opportunities within their local community
support students in documenting their learning and skills development through the Millennium Volunteers' programme and celebrating this learning in UCAS personal statements, CV's and application forms, thus impacting positively on their own self-esteem and personal development
recognise the commitment that students give to volunteering and social action within School through the various school and community based media.
Sixth form students who have recently completed 200 hours of volunteering were asked to share their experiences of serving in Ballymena Academy, locally and across the world. Every day this week you can read about the organisations they volunteer with and the positive impact volunteering has had on their lives.
Emma Martin – GB, BB, Sunday School, Sports Academy George and Spark
I am a helper in BB, GB and Sunday school in my church. I help these organisations by delivering stories, playing games with the children and, also through art and craft activities. I have participated in Spark and I helped to run a kids' club and clean up around the Ballymena community. In the summer I went to George in South Africa as part of an Exodus team to work in primary schools within a township named Thembalethu. Each morning I helped as part of a team taking assemblies and PE classes. Moreover in the afternoon I helped coach netball at Sports Academy George.
I have taken an interest in volunteering as I believe that it is important to spend time helping others as you don't only learn valuable life skills but you gain so much more understanding of other people. Furthermore volunteering provides me with a sense of happiness as I know that I am doing good for other people and I am investing my time wisely. I have learned so much through volunteering. For example, I have learned about another culture and how it differs from ours. Moreover I have realised how blessed I am as I have so much compared to others that have so little. I have also learned how to work with a variety of people and younger children.
Grace Bailie – I volunteered with Exodus to go on a mission team to Hungary for 10 days where I had the opportunity to make a positive difference to less advantaged children. This included planning games, talks, craft and activities in advance and participating in them whilst I was on the mission trip. I also volunteer within my church, Ballymena Baptist, carrying out various roles. For example, helping with Sunday School, Kids Club, Youth Club and G.B. In addition, I volunteer in the Church Music Team, using my musical skills by playing in the worship band.
Personally, I believe volunteering is extremely worthwhile. It's brilliant to be able to help others and learn from it yourself. From going on my Exodus trip, I built close relationships with other team members and established special bonds with the children in Hungary. In fact, one 10 year old girl, called Tia, still FaceTimes me each Sunday just to say hello. Volunteering is immensely rewarding.
Bethan McLaughlin – Sports Academy George and Voiceworks drama school
I went to Sports Academy George in South Africa during the summer to volunteer coaching netball and take PE classes for underprivileged children. I also volunteer in Voiceworks drama school helping teach dance classes to younger people.
I really enjoyed volunteering in South Africa as it taught me how much I take for granted and that the people who have less are usually the ones who are happiest and most content. I enjoy helping in Voiceworks seeing the children develop their drama and dance skills and confidence especially when they perform in special events/shows.
Anna Gordon – Exodus, 'It's Your Move' SU Camp, Generation Next, Church Kid's Club and Superstars Summer Scheme
I had the opportunity to work with disabled children over the summer which involved entertaining them and helping them with various tasks. I was part of a team to South Africa where I taught PE classes and coached netball to underprivileged children there.
I love to help others who are in need. I have learnt many different skills through my experiences and developed an understanding of the need within my community.