Spence is at the wheel – former pupil tearing up the track with McLaren F1
For anyone with an interest in engineering and sport, landing a job for McLaren F1 just about tops the lot, and that is exactly what happened to former pupil Chris Spence who left Ballymena Academy in 2013.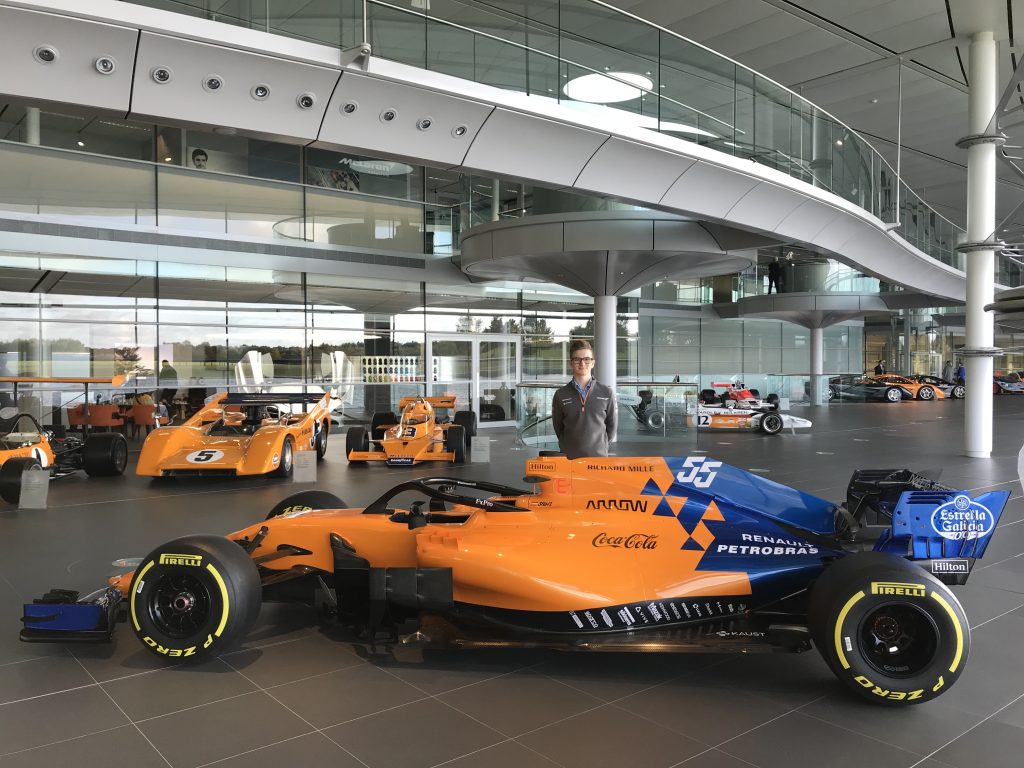 At school, Chris studied studied Maths,Physics and Music to A Level. An avid participant in the BA SENTINUS Engineering Team, led by Miss Wylie and Mrs Simpson, Chris developed a keen interest in Engineering and decided to pursue this future at QUB.
Soon after graduating, Chris landed his dream job with the McLaren F1 team, spending his days working at the McLaren Technology Centre in Surrey.
We caught up with Chris and asked him about life at McLaren.
So Chris, tell us what you do at McLaren Racing?
I am currently the Project Engineer for Wings & Bodywork, I am responsible for managing the daily running of a portfolio of projects relating to the car. I take designs from our design office, and oversee the manufacturing of parts to allow us to run each weekend. The car is constantly evolving so it's a never-ending process. Basically our team is responsible for the vast majority of carbon fibre parts on the car which also happen to be the majority of aerodynamic surfaces on the car.
 
What has been your favourite moment so far?
My favourite moment so far was the 34A Car launch (car in pic attached, ie the 2019 car), launched on Sky TV, it was the first F1 car I'd been involved in from start to finish, getting to see the covers come off for the first time was a really special moment. On reflection it feels like a journey I began in the engineering team in BA when we were working on design projects for SENTINUS.
 
What is the best part of your job?
The best part of my job is watching something you've made go wheel to wheel at 200+mph on a race weekend. I was a massive fan beforehand, so I still feel like a kid when I watch it now. F1 for me is really engineering teams competing. It's like the Premiere League for engineering/manufacturing. My earliest memories of watching F1 were with my Dad when David Coulthard was racing for McLaren. He had his name printed in bold writing on the side of the car and I thought it was so cool (I was 7 years old!) To walk past that very car on our boulevard everyday is a little surreal. I don't think I could have that kind of job satisfaction in any other industry, or team in fact.
We love to celebrate in the success stories of former pupils and are proud of the fact that they started their journey here at Ballymena Academy. Well done Chris!