Swimming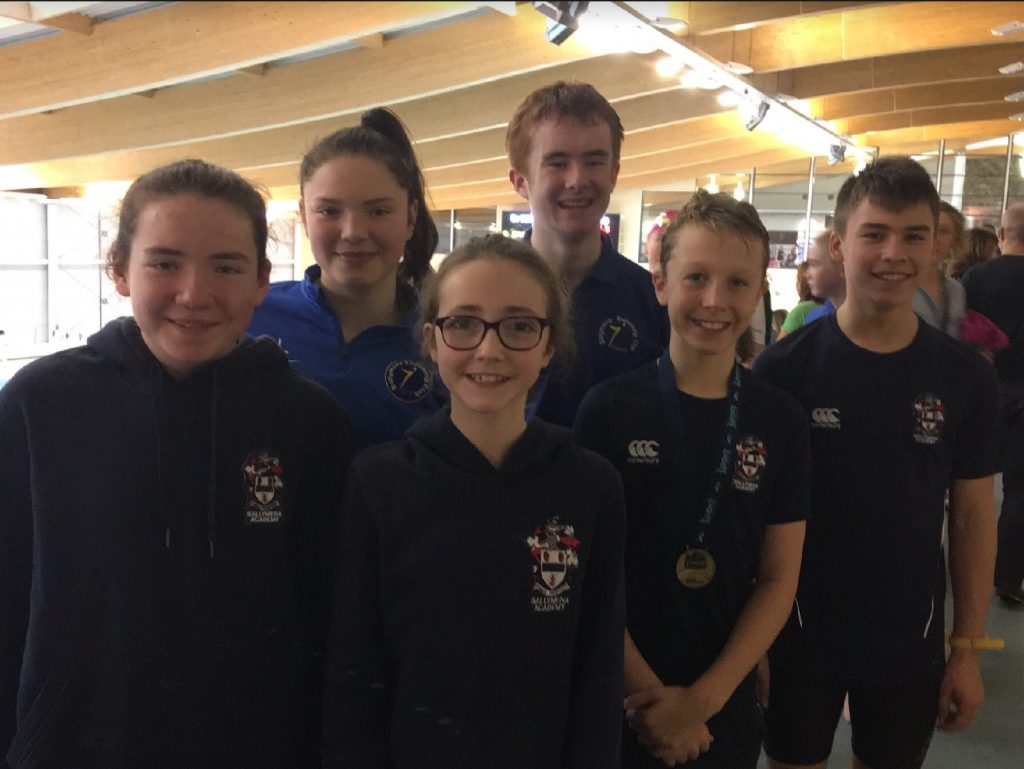 There are up to 7 school swimming competitions each year, run by Swim Ulster, Swim Ireland or Ulster Schools Swimming.  These competitions are open for any student who either currently swims for a club or is a keen novice.  These competitions include:
September
Ulster schools swimming relay gala for all students
October
Swim Ulster Schools Gala for all students in Years 8-14 – this gala is used for interprovincial team selection.  The Inter-pro Team Event is held in the NAC Dublin in April/May each year.
Swim Ulster minor schools section for students in Year 8 & 9 – students must compete in this meet to qualify for the Irish minor schools meet.
November
Ulster schools Grammar schools gala is for all students in Years 8-14
January
Ulster Schools Secondary schools gala for all students in all Years  8-14 – students can qualify from this meet onto the junior Tenerife Schools training camp or the Senior London Training camp.
February
Swim Ireland Irish Minor schools held in Dublin – Qualification for this gala is through the Swim Ulster schools meets.
May/June
Ulster schools Minor schools gala for Year 8 & 9 students
---
Students are invited to nominate themselves for selection if they wish to participate and represent the school at any or all of the above meets.
ANNUAL REPORT 2018-19
This year was busy for the school Swimming Club in the Ulster Grammar Schools', Swim Ulster Schools, the Ulster Secondary Schools' and Irish Minor Schools' Galas. The year started at the end of September, Keri Hoey was selected to represent Ballymena Academy on the Ulster Schools' Training Camp held in London's Aquatic Centre. Twenty-four pupils from across the province got the opportunity to train in the 2012 Olympic pool. As well as training they enjoyed some sightseeing in London. Keri was selected based on her results and performances from the previous season.
Ulster Schools' success came across all year groups, Year 8 pupil, Thomas Evans, won Gold in the 50m Freestyle at Bangor Aurora. Thomas had new personal best times in the 50m and 100m Breaststroke as well as the 100m Freestyle events. Thomas qualified in these events for Irish Minor Schools' Championships held in NAC Dublin in February. Year 8 pupil, Molly Liggett, also had personal bests in 100m Butterfly and Breaststroke events and narrowly missed the Junior Fly Final.
Year 9 pupils, Gemma Clyde, Samuel Wainwright and Matthew McLaughlin swam personal bests as did Oonagh Lamont from Year 10 who finished 3rd in the Junior 100m Breaststroke. Our intermediate team consisting of Jack Adair, Aimee Hill, Sophie Leetch, Keri Hoey and Adam Lamont wrapped up a weekend of personal bests in each of their individual events.
Several of these pupils participated at the Ulster Grammar Schools' Gala, and Secondary Schools' meets with more personal best performance in their chosen events.
---