Back to
Prospective Students
Ballymena Academy
'Inspires Learning and Achievement'

Ballymena Academy is recognised for its outstanding educational provision. There is a commitment to the pursuit of excellence in a learning environment which is always welcoming, caring and inspiring.
In Sixth Form pupils have access to a broad range of subjects and courses, including 'AS', A-Levels, BTEC Subsidiary Diplomas and Certificates. The curriculum provision is well in excess of statutory minimum requirements, providing a wide range of learning opportunities suited to the needs, abilities and interests of pupils.
You can find an overview of the subjects in the 'Explore Further' section below or download the Sixth Form Subject Choice Booklet for more details on each of the courses.
The Academy offers an extensive Co-Curricular programme that is the envy of schools throughout the country. These opportunities enable pupils to develop skills, in and out of the classroom, which are highly desirable in the work place. This provision has been recognised and complimented, by pupils, parents and various outside agencies, for its breadth and for the enrichment that it provides. A list of these activities can be found in the 'Explore Further' section at the bottom of the page.
Ballymena Academy recently attained the Gold Level in The Quality in Careers Standard, becoming the first school in Northern Ireland to receive this award and one of very few schools nationally to attain this high achievement. This award for careers education, information, advice and guidance (CEIAG) was in recognition of its integral part of our Sixth Form programmes and our ability to help prepare our pupils for life beyond school.
With views of Slemish Mountain and the North Antrim countryside the state-of-the-art Sixth Form Centre is a splendid learning, study and recreation facility.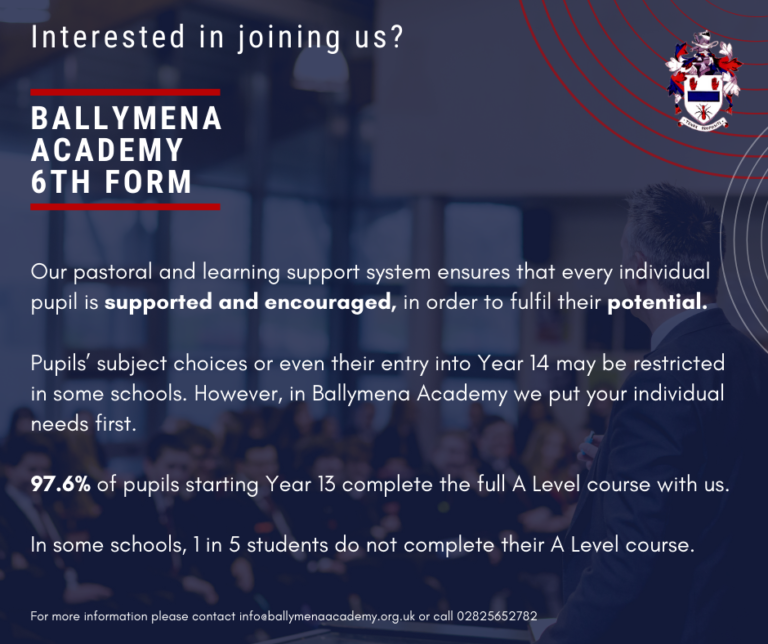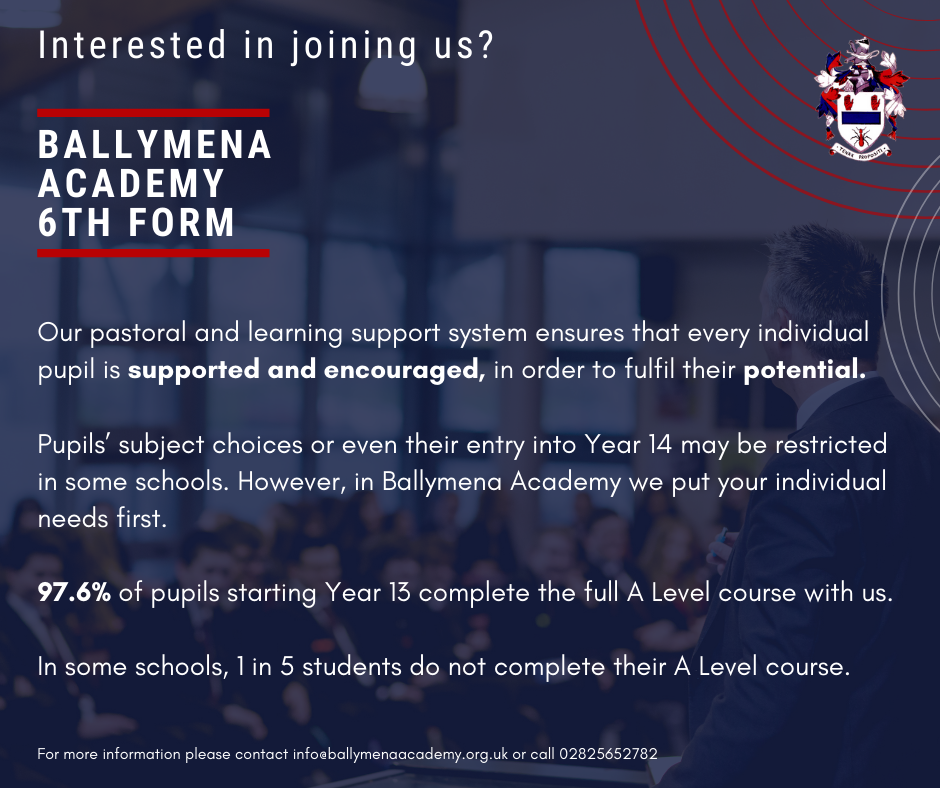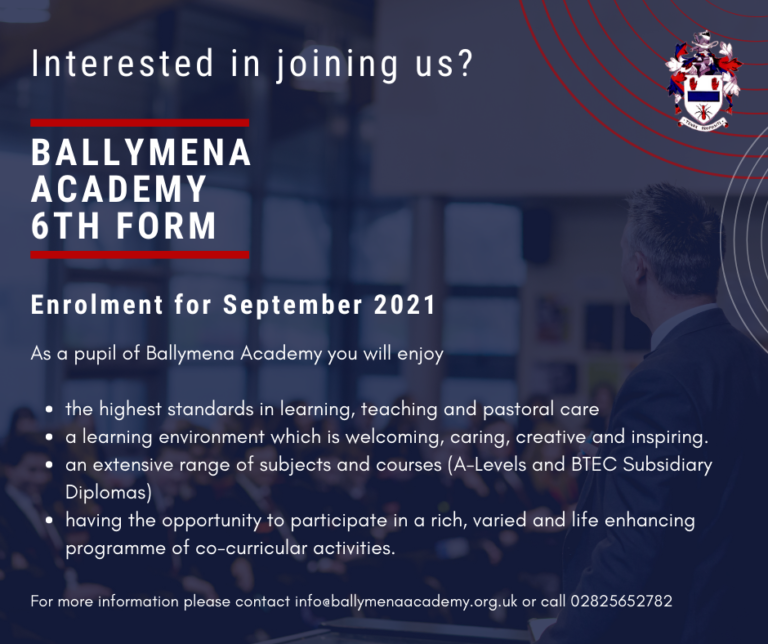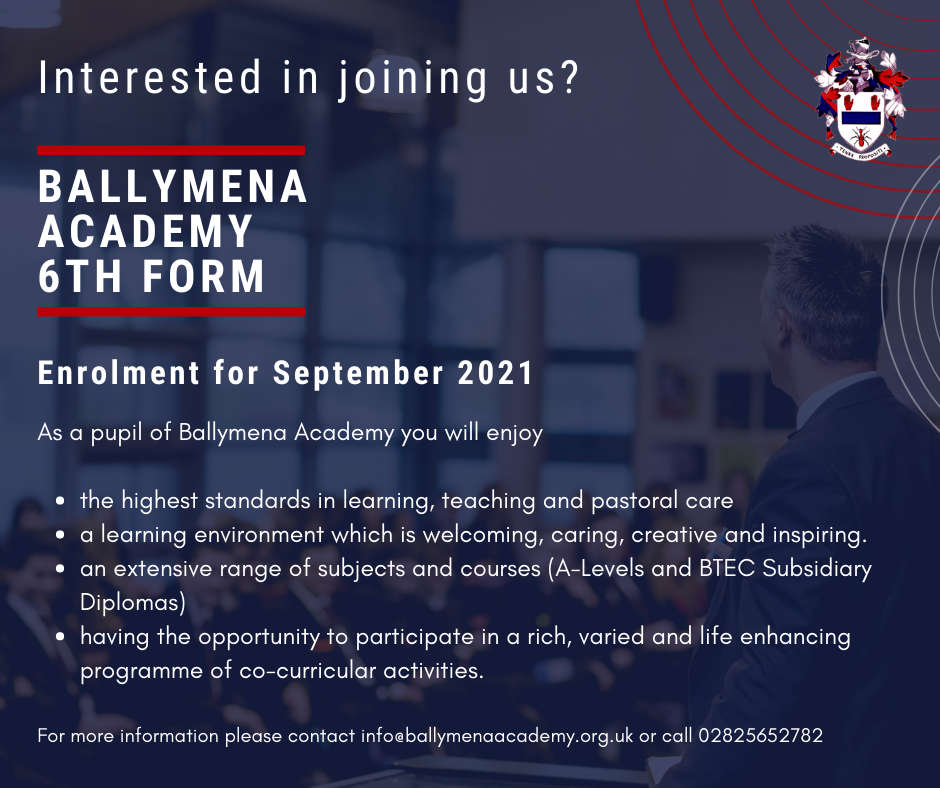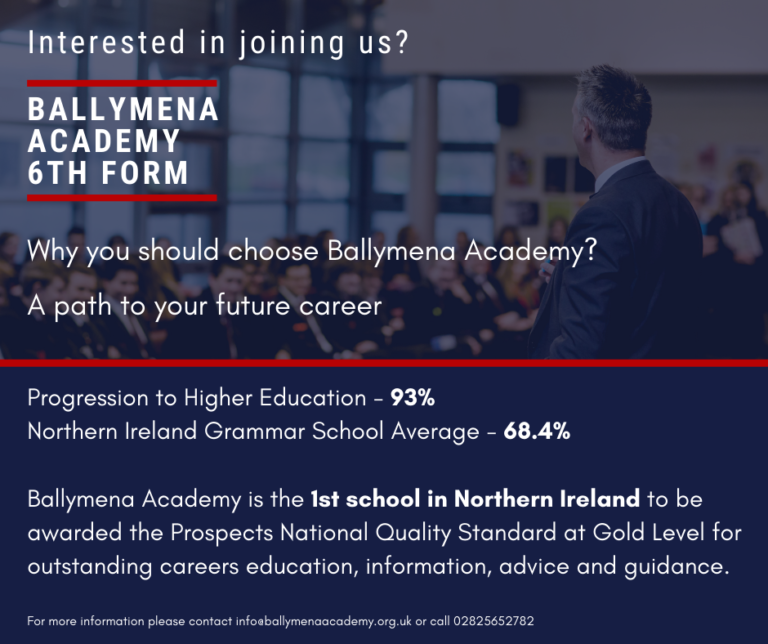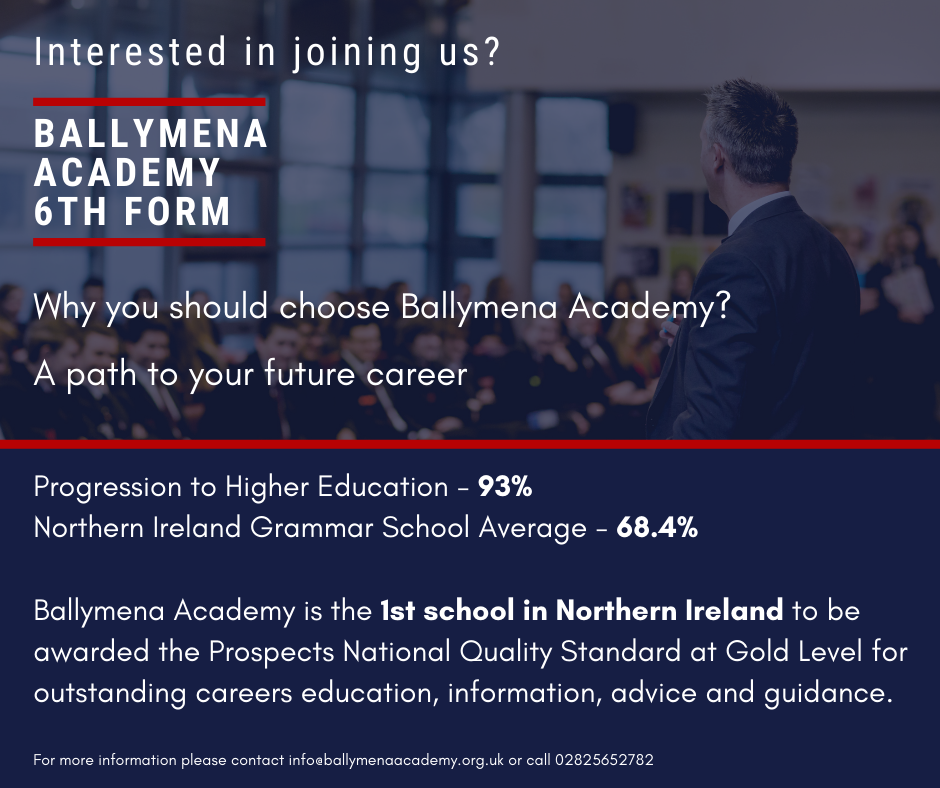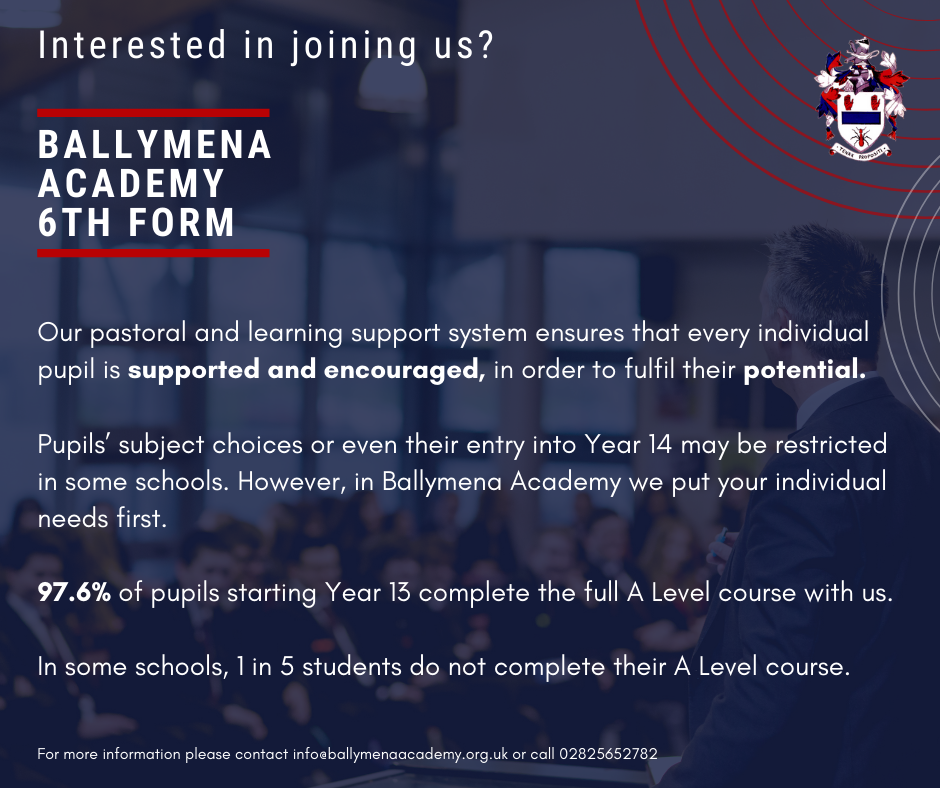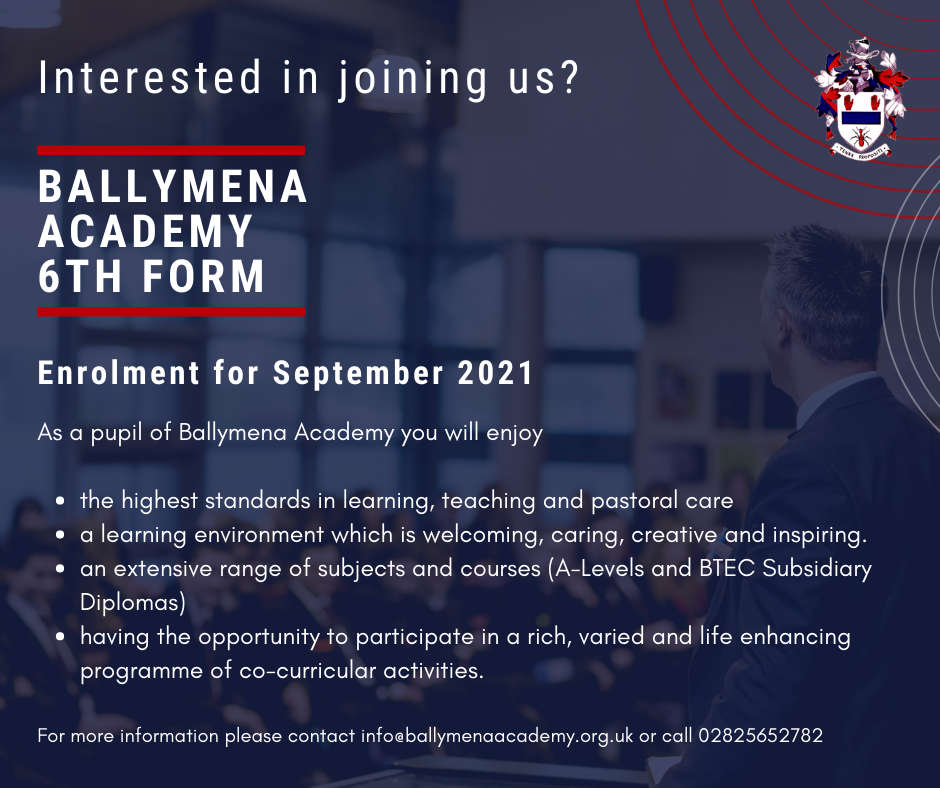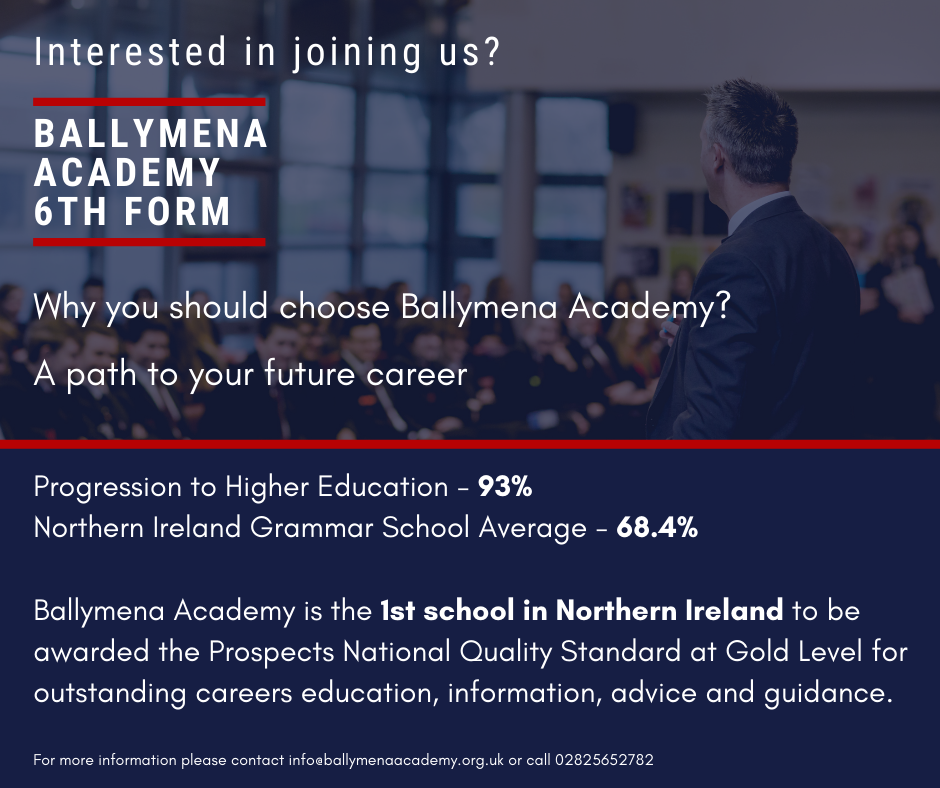 Coming to Ballymena Academy
Explore Further
30 subjects offered on site
Subjects on offer include:
Agriculture
Art and Design
Biology
Business Studies
Chemistry
Classical Civilisation
Construction
Digital Technology
Economics
Engineering
English Literature
Environmental Technology
French
Further Mathematics
Geography
German
Government & Politics
Health and Social Care
History
Mathematics
Media Studies
Music
Nutrition and Food Science
Performing Arts
Physical Education
Physics
Religious Studies
Software Systems Development
Spanish
Technology & Design
Co-Curricular
Employers and university admissions tutors continually emphasise the importance of demonstrating skills and personal development beyond the academic, therefore Ballymena Academy provides a wealth of opportunities and activities which encourage pupil participation in.
For example:
Aerobics
Athletics
Badminton
Basketball
Canoeing
Circuits
Conditioning
Cricket
Cross Country
Dance
Rugby
Golf
Gymnastics
Football
Handball
Hockey
Ju-jitsu
Neball
Showjumping
Swimming
Table-Tennis
Tennis
Walking Club
Zumba
Chess
Senior Choirs
Chamber Choir
Charity Committee
Cancer Research Committee
ASHA India Project
Christian Union
Computer Programming Club
Drama Society
Duke Of Edinburgh
Educational Visits
Mandarin Classes
School Councils
Debating
Senior Strings
Senior Wind Band
Sixth Form Committee
Percussion Groups
Public Speaking
Engineering Education Scheme
Business and Enterprise Links
Orchestra
Rock Bands
Traditional Group
Leadership Opportunities
Mentoring
Volunteering
Self-presentation Skills Development
Theatre Visits
Health and Wellbeing
The school has a unique Physical Recreation Strategy – aimed at promoting exercise and healthy lifestyle choices. The approach was described by Michael Gove as 'an innovative piece of thinking', which 'could well be a model for other schools to follow'. The success of the scheme is evidenced in the increased participation rates of our pupils and staff with the vast majority of the school community now regularly involved in physical recreation outside time-tabled physical education classes.
Also, Ballymena Academy is only the second school to receive Investors in People recognition for its work in relation to Health and Wellbeing.
Caring for the Individual
Ballymena Academy values relationships and provides a safe, caring, creative environment in which young people can enjoy their education, achieve their potential and equip themselves to meet the needs of an ever changing society. We are a school steeped in tradition, yet progressive and forward-looking. Our caring ethos and genuine welcoming family atmosphere have been noted by external assessors, including Investors in People and Prospects.
For more information on the application process please contact the School Office through our online form, call us on (028) 25652782 or email us at info@balacademy.ballymena.ni.sch.uk
We look forward to hearing from you.
Downloads