Raising Robots Competition
We are off!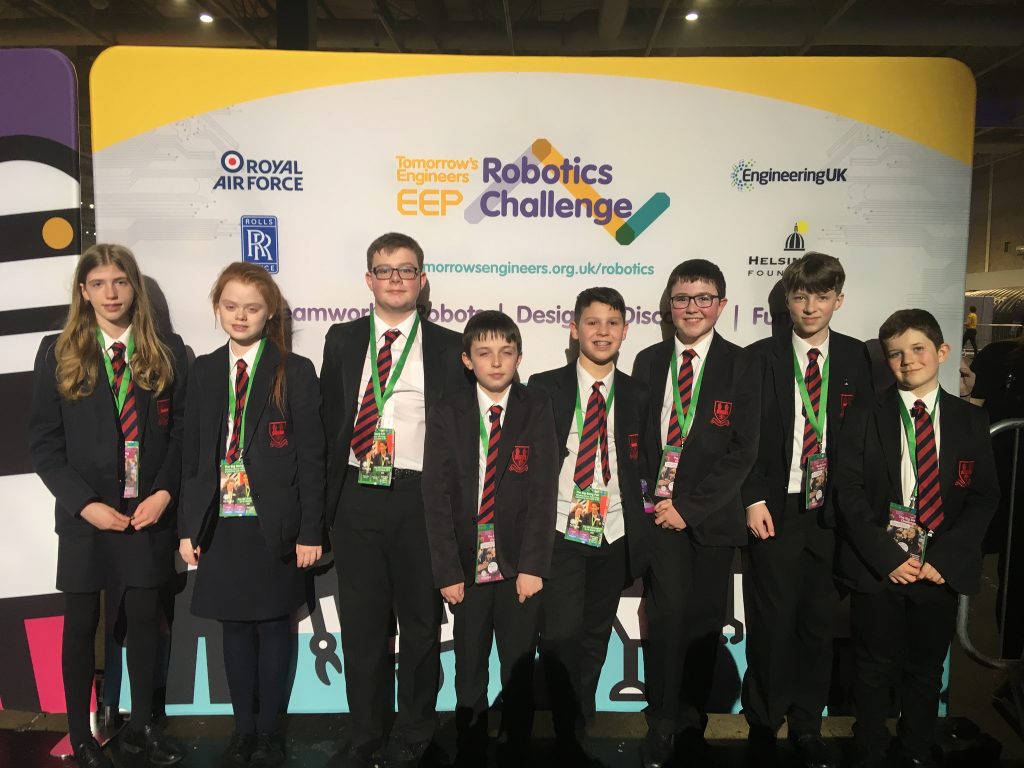 Eight pupils, Arthur Church, Lydia Gregg, Reuben Hamill, Natalie McCullagh, Lewis Millar, Zach Shaw, Jamie Sims and Jamie Stewart accompanied by James Armstrong, Miss Cuddihy and Miss Wylie all navigated security swiftly, had a safe flight followed by baggage collection and straight to the hotel to check in. Following a quick change we headed out for some team building training at mini golf, courtesy of Mr Christie and enjoyed a well earned dinner. An early night was then needed to recharge as we have a busy day of robotics competition ahead of us tomorrow.
It's competition day!
After an early start to our day we headed to the NEC to set up for the day's competition.
Mr Armstrong's height advantage proved extremely useful when pinning up the posters for our presentation.
Our first task was The Robot Design Task. Here we had to describe our robots, their functionality and the challenges we faced coming up with our final designs. We even serenaded the judges with a spontaneous version of "oh fluffy sheep".
A short break was swiftly followed by our second task of the day which was the Robot Mat Challenge. A few hiccups were had but the team persevered to the end. With no time to spare we were straight into the team presentation at our stand; all this before lunch.
A well earned lunch break provided us with an opportunity to look round and enjoy the exhibitions and STEM activities. This also enabled us to complete the team challenge, a STEM Careers Treasure Hunt, before tackling our second round of the Mat Challenge. We finished off the competition showcasing our speed robot in the Speed challenge, before sitting back to relax and enjoy the award show.
Even though we didn't pick up any prizes we were delighted to be in the top 48 schools out of the 500 who participated in this programme. A great trip was had by all. Thanks to Tomorrow's Engineers and all at the NEC Birmingham for making our trip so memorable. Thanks also to James Armstrong, Miss Cuddihy and Miss Wylie for accompanying us on our journey.