Northern ireland Summer School at the University of Oxford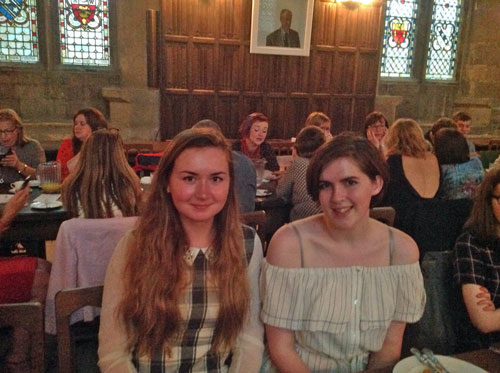 Two students from Ballymena Academy attended the University of Oxford Summer School at the end of June. This three day event allowed 126 pupils from all over Northern Ireland to sample university life. Lectures and seminars took place in St. Catherine's College and New College, two very different venues showing modern and old Oxford.
Pupils looked at reasons why you would choose to study at university and then focused on what Oxford has to offer. They found out about how to write the best personal statements and what would be looked for at interview. The pupils attended sample lectures, studied aspects of subjects they were interested in and after researching the answers to some questions, they discussed their findings in tutorials. They found this to be interesting and challenging in many ways.
There was plenty of time to socialise both informally and through organised activities such as quizzes, punting and mealtimes. Shonagh even won a University of Oxford hoodie for being a member of the winning quiz team! Neither Nataliya nor Shonagh fell into the River Thames which Miss Bassett was very thankful for! Other pupils were not as fortunate!
{gallery}Oxforduni20617{/gallery}
Report and photographs thanks to Miss Bassett