Luke Gregg (Year 13) awarded place in Ulster Youth Orchestra
Congratulations to Luke Gregg (Year 13) who has been awarded a place in the prestigious Ulster Youth Orchestra after successfully auditioning in December.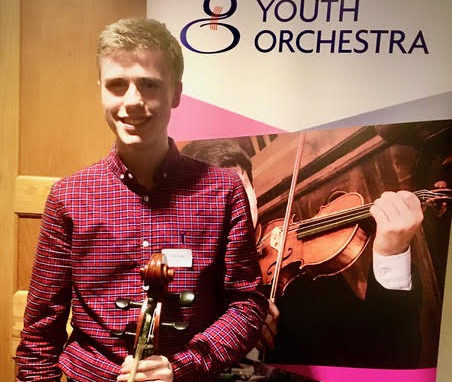 Luke continues a tradition of Ballymena Academy pupils achieving places, and joins two current Ballymena Academy pupils who are already members; Cameron and Caoilin Olphert.
The UYO is composed of the province's top young instrumentalists and is conducted by internationally acclaimed Italian conductor Daniele Rustioni. Orchestra members receive an exceptionally high standard of musical training from a team of experienced professional tutors culminating in concerts at the Guildhall in Londonderry on 24th August and at the Ulster Hall, Belfast on 25th August 2020.
Luke has been taking school-based cello lessons at Ballymena Academy since Year 8 and is a committed member of several ensembles and orchestras in school. Outside school he has taken part in the Ulster Orchestra's "Come & Play" events for the last four years and has been a member of Education Authority Orchestras since the age of ten. Last summer he toured Europe with the EA Youth Orchestra, performing at concerts in Stuttgart and at the Council of Europe in Strasbourg.
Many thanks to Cello Tutor, Mrs Joy Moore, and to the Music Department for all their support and guidance.