#IWill Week – Day 4
Over the past week the #iwill campaign has been celebrated across the UK.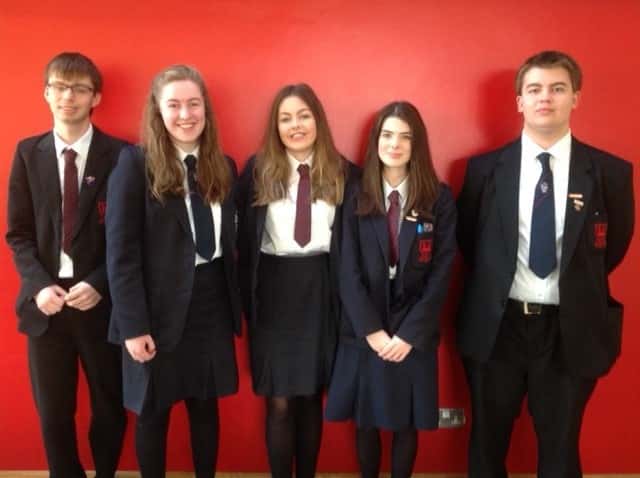 Cian Mawhinney – High Kirk Church, Ballymena Academy Senior CU
In the summer of 2017, I went on a missions trip to Romania with my church. I have also participated in Spark, a community outreach event where school aged people can go into the community to give help to areas that need it. Lastly, I help in church and Ballymena Academy Senior CU with the lyrics slides for songs.
I have always been wanting to help people with things, and volunteering is a perfect way to do this. Learning to be part of a team has also been beneficial to me, where I occasionally got pushed out of my comfort zone, leading me to learn about different scenarios.
Rachael Macauley – St John Ambulance, RAF Air Cadets, Health and Social Care Trust Summer Scheme, Care Home, Prefect and peer mentor
¥ As a SJA volunteer I give my time to learn valuable first aid skills. Knowing some basic first aid gives you peace of mind in knowing that if you are ever at the scene of an accident, you will be able to contribute to the care of injured individuals.
¥ In Air Cadets we are involved in many charitable activities such as bag packing to raise money for Wings Appeal. This publicises the organisation but also contributes to a great cause.
¥ I volunteered for a week at a Summer Scheme for children with disabilities in August. I was paired with a five year old child with Down syndrome and it was so rewarding to see him come out of his shell during the week and become more communicative. I had a duty of care which meant I was responsible for his safety at all times. On one of the days, we took the children to Streamvale open farm which was a great day out for the children and volunteers alike! Although the week was challenging and tiring it really was enjoyable.
¥ As a prefect, I help out at a variety of events in school and I really enjoy my role as a peer mentor as I was able to help nervous year 8s settle into school and pass on valuable knowledge to them.
I volunteer because I can learn practical skills like first aid and other skills such as teamwork, leadership and communication – all whilst giving something back. Just last week I was at mock medical interviews and so much of what I was able to talk about was related to my volunteering. Although it's not the sole reason I volunteer, it does look great on a CV and in interviews. Moreover, the key transferable skills you learn from volunteering are useful in any job
Emma Flanagan – St. John Ambulance, Cancer Research UK, PlanMyGapYear and North Eastern Health and Social Care
At St. John Ambulance I participate as part of a team to learn and practise First Aid skills. In the Cancer Research charity shop I organise donations, label stock, maintain the shop floor and operate the till. In June I volunteered for two weeks in Sri Lanka as an English and Science teacher to a class of ten girls aged 13-17 in a local orphanage. We worked on higher level grammar, sentence structure and verb conjugation. The girls especially loved to learn about Human Biology. When we were finished with lessons we could play and dance and I even managed to teach them some Spanish phrases! I also participated as a leader in the "Superstar Summer scheme" for disabled children with the HSC Trust. I worked with one child on a personal level where we played games and music, made crafts and went on a trip to Streamvale Farm.
I began volunteering with St. John Ambulance due to my interest in learning about First Aid and to improve my teamwork skills. I began volunteering in a charity shop to complete my Gold Duke of Edinburgh Award. I have become more confident as a result and have learned how to communicate better on a professional and approachable level. I have also learned how to manage my time more efficiently. I volunteered as a teacher in Sri Lanka as I wanted to give others the opportunity of an education and to experience a completely different culture. From this experience I have definitely matured because I realised the importance of a good education, my fortune to have a family and have made many great friends!
Sophie Dennison – Irish Football Association, Glentoran Women's Football Club
As an IFA volunteer, I assumed the role of 'Mascot Chaperone' in the Women's Under19 European Championship and continue to offer 'Fan-zone Support' at international matches at the National Football Stadium. Consequently, I have received the Volunteer Now Gold Award. Through the Irish Football Association, I have also been able to fulfil the role of an 'Event Co-ordinator' with the Stay Onside Programme, which uses skills within football to deter from future offending, with the opportunity to work with and support offenders and young people in changing their paths in life being truly rewarding. Likewise, through my voluntary work with Glentoran Women's Football Club as a 'Media Officer' I provide social media updates. As a result of this I was awarded the Queen's Award for Voluntary Service.
Why are you involved in volunteering and what have you learned so far?
Through volunteering I have learnt how rewarding it can be to give your time and energy to assisting a cause you believe in. I find my volunteering with the Irish Football Association to be enjoyable as it gives me the opportunity to be a part of something bigger, especially in relation to the Stay Onside Programme, where the impacts of the programme are clearly visible in the examples of people who have been able to turn their lives around for the better. I have also been able to learn new skills and develop my existing abilities, which not only offers me the opportunity to further my role with volunteering, but has also allowed me to acquire essential skills for life, education and a future career.
Simon Bennett – St. Patricks Church CLB/Youth Club, Ballymena Area Concert Band, Alzheimer's Society Garden, Ballymena Academy Peer Mentor
The activities that I have participated in are mostly with young people, helping them to become fitter and also teaching them life skills. I have also helped young children to participate in music, thereby increasing their knowledge of the arts. I've also volunteered at a garden linked to Alzheimer's which had made me more aware of this terrible disease.
I have been involved in volunteering to increase my life skills and to give back to the community what I have gained and learned over the past years. Any volunteering that I have carried out with children has been fun and I hope that they look up to me for my leadership skills.