Senior CU Weekend
Senior CU members had an action packed trip to Castlewellan Castle last weekend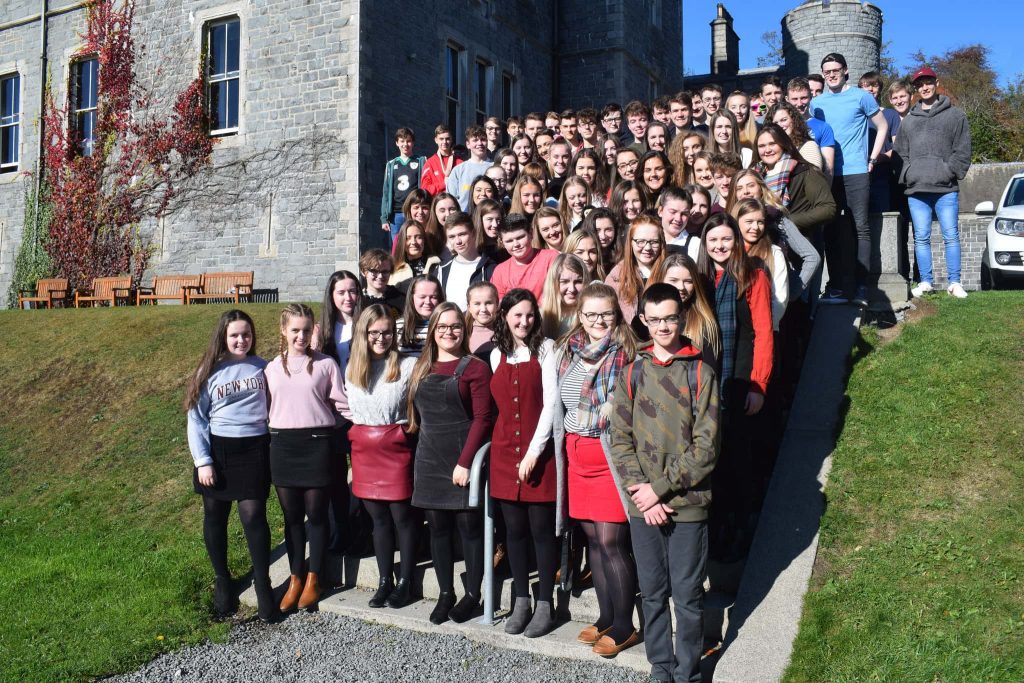 79 members of Years 11-14 enjoyed a busy programme of activities organised by the Senior CU Committee.
Pupils invited former Ballymena Academy student Keith Fulton to speak to them about the Christian faith on the theme of: Called to… Worship, Persevere and Sow the Seed.
On Friday night pupils led worship and Courtney shared about the charity being supported by Senior CU this year which is Mukinge Hill Academy in Zambia, through SIM. After the main meeting Year 14 pupils Jonny and Craig held their 'Big Quiz'. Much competition was had flipping biscuits, guessing memes and song titles and playing Dingbats. The teams allowed pupils from different year groups to get to know each other and engage in some 'healthy' competition!
Saturday morning involved pupils having a quiet time, after which they got together in small groups to discuss what they had learned from the Bible. Year 14 pupil Elizabeth McCartney then used her creative talents to lead a practical session entitled 'Illustrated Faith'. Some pupils enjoyed a relaxing time painting and chatting while producing some beautiful designs. Others took part in some interactive prayer activities in the prayer room. After lunch the Senior Committee members led seminars looking at different aspects of their Christian Faith relevant to boys and girls.
Unfortunately, it continued to rain all afternoon but after some free time relaxing and playing board games there was the opportunity to play a series of team games. Everything from balloon games and making the longest chain, to sticking cotton wool on your nose with Vaseline and making spaghetti/marshmallow towers kept everyone entertained until teatime.
The evening meeting was followed by a trip to the ice cream parlour and then came one of the highlights of the weekend – the Murder Mystery! Committee members in spectacular costumes re-enacted a very impressive fairy tale where the Gingerbread Man was eliminated and the suspects involved everyone from Little Red Riding Hood to Goldilocks and the three little pigs, a woodcutter, Granny, the inspector and the wolf. It would be telling to say who was accused of the murder but she protested very loudly at her sentence!
Late night worship led by a range of students was a fitting end to a very enjoyable day.
Sunday started with a joint time of worship at 8.15am with Banbridge Academy Senior CU at the edge of Castlewellan Lake. The rain had stopped and pupils enjoyed being outside. After the morning talk and a time of prayer in small groups, the pupils took their annual photographs outside the castle in the beautiful sunshine.
Thanks go to all of Senior CU Committee for the incredible amount of work they put into organising the weekend and to all the teachers and their families who so willingly came along to supervise and enjoy the fun.