Ballymena Academy Take On UK Mock Trial Grand Final
Getting up early to catch the 7.30am flight on Friday 23rd March, the team from Ballymena Academy set off for Cardiff, to compete in the UK Final of the Bar Mock Trial, having qualified at the end of 2017 on winning the Derry-Londonderry heat. Owing largely to all the hours of hard work from Barrister at Law and past pupil, Emma Mallon, and the kind sponsorship of Mid and East Antrim Council, The Bar of NI and the Citizenship Foundation, the team of 11 pupils along with teachers Mrs. Matchett and Dr Livingston were able to make this trip to the Welsh capital!
After arriving and dropping off luggage, it was off for lunch and a day spent between shopping in St. David's Centre, taking in the sites of Cardiff's Principality Stadium and Cardiff Castle; all before watching as Dr Livingston became the local bowling sensation! A quick dinner then followed, as the team headed back to the hotel for an intensive practice of both team cases – one of grievous bodily harm and another of gun violence – to prepare for the next morning's competition against all other finalist schools.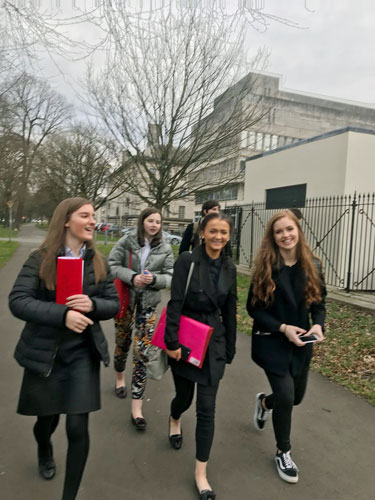 On Saturday, last minute preparations were finalised over breakfast, before the short trip was made to Cardiff Crown Court – the venue for the National Finals. Led by the Citizenship Foundation, the day was kicked off with opening speeches before Round 1 began – a round which would see Megan Kernohan and Martyn Doherty of the Academy side work as barristers along with their witnesses Kerri Gregg and Erin McKay, these two being questioned and cross examined by both sides of the legal competition. Under the conditions of the courtroom, Court Usher Susanna Crabbe assisted the Judge, before a much-needed 'Not Guilty' verdict was returned, in favour of the defence for whom Ballymena Academy had acted.
Round Two was soon to follow, where witnesses Harry Fleming and Molly Reid worked with their representative barristers Megan Kernohan and Jessica Gregg to fight to prosecute a competitor defendant from Chelmsford County High School for Girls – with Sarah Logan taking up the role of Court Clerk and leading the court proceedings throughout, all whilst other schools led the same case in some of the Crown Court's nine courtrooms, in a bid to accumulate points ahead of the afternoon hearings.
After a competition lunch and a team meeting, the initial case was heard again – this time seeing Barristers Shonagh Nelson and Katie McKillen lead the prosecution team along with their witnesses Sarah Logan and Kerri Gregg, who held up well under tough questioning to see an independent jury return another favourable verdict – this time a guilty one…
Judging saw the Ballymena Team perform well against a selection of the 17 other regional heat-winners, with the final announcement revealing that the final would be contested – and eventually clenched – by Ballymena Academy's 3rd Round opponents, Wilmslow School. A presentation of certificates to the school was made by the Rt. Honourable Sir Brian Leveson PC, the Head of Criminal Justice and Chancellor of Liverpool John Moores University, with these awards being collected by the school's witness and usher Susanna Crabbe.
A celebratory meal was held in City Centre to mark such an event and followed with a catch-up in a local dessert parlour. After a night spent chatting and a leisurely breakfast the following morning, it was up and on the coach for a quick trip past Cardiff Bay en route to Bristol Airport – back home after meeting the Ulster Rugby Squad with some past pupils to put a close to a great weekend!
Martyn Doherty (Year 13)
{gallery}Bar_Mock-Trial/National_Final_24_03_2018{/gallery}