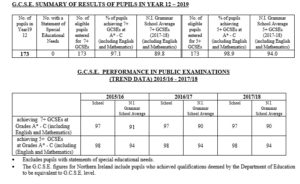 Six young people achieved 9 A* grades – James Craig, Rachel Gillan, Rachel McCartney, Erin McCurdy, Eve Patterson and Hannah Reid.
36 pupils achieved a minimum of 9 A*/A grades – Katie Alexander, Cameron Bailes, Tim Bailie, Holly Boyd, Patrick Browne, Richard Carson, Ashleigh Church, Jonathan Cochrane, Jackson Darragh, Naomi Dickey, Molly Drennan, Grace Francey, Matthew French, Megan Gordon, David Heaney, Oliver Hunt, Ellen Lackermeier, Andrew Lawther, Robert Mark, Sarah McBride, Anna McCaig, Jonathan McCullough, Joshua McIlhagga, Beth McIlrath, Kathy McIlveen, Lucy McKane, Hannah McKibbin, Abbie Millar, Grace Moore, Zara Mulholland,  Kaden Patterson, Grace Reid, Hollie Stirling, Katherine Stronge, Tori Surgeoner and Rachel Wilson.
They were closely followed by a further 22 young people with a minimum of 8 A*/A grades – Brooke Arbuthnot, James Cahoon, Odhran Cosgrove, Amy Cunningham, Esther Davison, Daniel Elliott, Katie Glass, Luke Gregg, Ailsa Hamill, Sarah Holland, Rachel Kennedy, Sophie Kennedy, Jacob Loughridge, Emma McGahey, James McLean, Maria Olteanu, Alice Rodgers, Hope Snoddy, William Snowden, Katie Stevenson, Rebekah Strahan and Hannah Wylie.
Finally, 15 pupils obtained a minimum of 7 A*/A grades – Harry Andrews, Peter Armstrong, Corey Clail, Taylor Crabbe, Joshua Drain, Robert Greer, Jack Guild, Adam Lamont, Kerry Laverty, Richard Mallon, Emma Mark, Nigel Moore, Daniel Pyper, James Ross and Victoria Turtle.
Places
Katie Alexander – 3rd place in Religious Studies (Short Course)
Tim Bailie – 2nd place in Construction
Richard D. Carson – 3rd place in Construction
James Craig – 1st place in Biology
Rachel McCartney – 2nd place in Digital Technology Multimedia & 2nd place in Religious Studies (Short Course)
Joshua McIlhagga – 2nd place in History
Grace Moore – 1st place in Music & 2nd place in Single Award Science
Matthew Orr – 1st place in Construction