Hockey
Hockey is available to all girls in Years 8-14.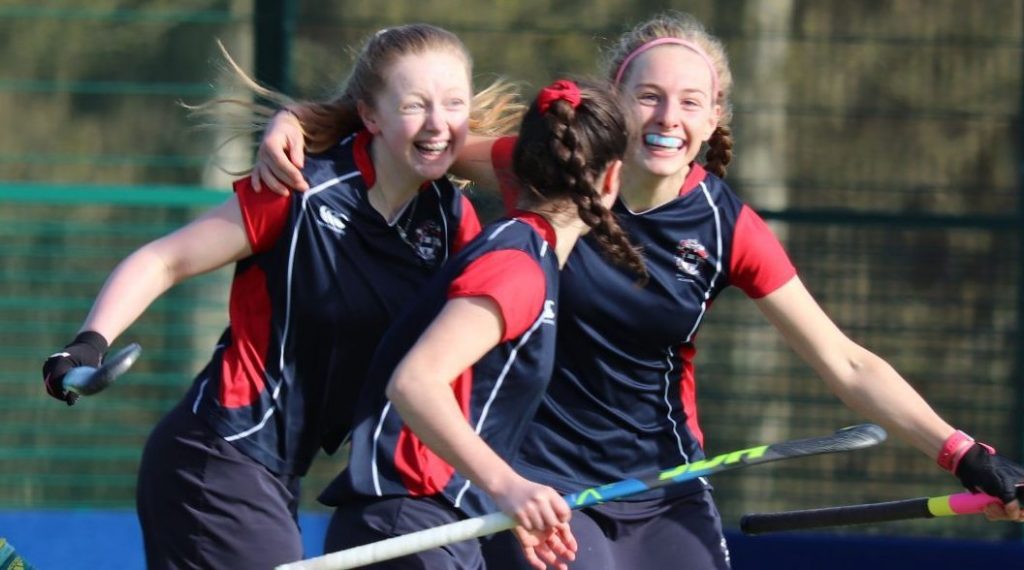 Practices are as follows:
Day
Time
Team
Coaches
Monday
3.30 – 5.00 pm
1st XI

2nd XI

3rd XI

4th XI

5th XI

P Cooke, B Linford

D McNeill, K Craig

D McNeill, K Craig

D McNeill, K Craig

Tuesday
3.30 – 5.00 pm
U14A/B XI

Year 8

N Taggart, A Doyle

M Glass, B Linford,

P Cooke, K Craig,

D McNeill

Wednesday
3.30 – 5.00 pm
U13/U14C XI
D McNeill, K Craig
Thursday
3.30 – 5.00 pm
1st XI

2nd XI

U13A/B XI

P Cooke, B Linford

M Glass, K Craig

Saturday
8.00 – 9.00 am
Year 8
All coaches
9.00 – 12 noon
Weekly matches [Sept-Mar]
All coaches
Teams also practice during Games sessions from Monday-Thursday
1st XI
The 2021/2022 season was fraught with ups and downs for the 1stXI. We were presented with many challenging matches and had both wins and losses against top teams. Our season kicked off with a bang, with us securing a 2-1 victory against the eventual school's cup finalists Armagh!
The Derry and Antrim league run started successfully with comfortable wins over Antrim Grammar, Dalriada, Foyle College and Cambridge House. However, after suffering losses against Coleraine and Limavady Grammar the league title was out of reach. Despite this, we showed great determination and only narrowly lost 1-0 to long standing rivals, Rainey Endowed, after a goal was disallowed for being scored just after the final whistle blew!
October saw the start of our schools' cup campaign as we travelled to Raphoe to play against Royal and
Prior. Despite the long road trip we came away triumphant with a convincing 8-0 win. This prominent
start set us up for the third round vs Ballyclare High School. A hard fought game led to a 1-1 draw, where we narrowly missed out on the quarter finals in penalty run ins. This unfortunate elimination from the cup put the next piece of silverware in our sights – the Ulster Schools' Shield.
An exhilarating quarter final of the shield, for players and supporters alike, against Friends School of
Lisburn, saw the 1st XI get a well deserved 2-1 win, despite being defeated by Friends earlier in the
season. We progressed on to the semi final where we faced Wallace High School. After lots of
opportunities Ballymena came away with a 2-0 win. Nerves were high in anticipation of the final at Stormont. We were all ready for the challenge as Coleraine had defeated us twice, earlier in the season. A strong start to the game saw the 1st XI dominate play, placing an early goal into the back of the net; 1-0 to Ballymena! This momentum continued for us with another goal coming just before the end of the quarter. The second quarter saw Coleraine settle into the game with end to end action and a strong performance from both teams. Coleraine's subsequent goal saw the score end 2-1 to Ballymena at half time. Ballymena's next goal in the 3rd quarter saw us take a seemingly match winning lead heading into the final quarter. With time running down and complacency setting in, we conceded 2 goals in the last 5 minutes. With the game tied up at 3-3 and the uncertain fate of penalty runs looming at the forefront of our minds, a frantic final few minutes ensued as tensions ran high with both teams looking for a winning goal, but it was not to be, the shield was settled by 'run ins'. After the initial 5 sets of run-ins, the score was tied at 3-3. The next set of 5 brought the score to 5-5 which brought the dreaded sudden death. Our goalkeeper, Robyn Fullerton, made an exceptional save, leaving the title there for the taking for captain, Emmie Booth, who had been awarded a penalty stroke. Holding her nerve, she expertly took the stroke, slotting it past the keeper and securing the victory for the girls!
Our seven year 14 players, Shania Murphy, Eabha Steele, Abby Simpson, Sophie Leetch, Amy Preston, Rhiannon White and Emmie Booth, must take credit for their commitment to school hockey over the past 7 years. They continued to work and develop their skills, whilst making sure to have fun at the same time. We wish them all the best in the future.
Congratulations must also go to Alex Byrne who represented Ulster at U18 level and was part of the team which went on to win the interprovincial title. She was also selected as part of the Irish U18 training squad.
Finally we must say a massive thank you to our coaches, Paul Cooke, Becky Linford, Jenny McGuckian and Andy Linford who worked tirelessly with us over what was an energetic and challenging season. Also a big thanks to Head of Hockey Miss McNeill who organised all the fixtures and buses. We couldn't have done it all without you!
Written by Katie McCullough, Amy Gregg, Lauren Ramsey, Katie McBride, Alex Byrne, Tory Hopkins, Rachel Black, Robyn Fullerton and Ellen McDonald.
---
U18 XI
This has been the first year we have been able to field 5 senior teams in school, which is fantastic to see. Even though the team had fewer fixtures than the 3rds and 4ths, the turnout to training each week never wavered. They had good wins against Parkhall, Dunclug College, Sullivan and Carrickfergus Grammar, a game which was played in the most challenging weather conditions we have ever faced!
Again, this is a young team made up of Year 11 and 12 players who have worked hard to develop their skills and gameplay, growing in confidence as they progressed through the year. This was most evident in a result at the end of the season where they turned a previous loss against Sullivan into a comfortable 2-0 win in one of their last games. They scored 17 goals in the 9 matches played, showing the potential they have with some of these games against the opponent's 4th XI team. Their attitude and commitment have been exemplary throughout the season and we have thoroughly enjoyed working with the team this year.
Finally, we wouldn't be able to play our matches without the help of the coaching staff and umpires. A huge thanks goes to Miss Doyle, Miss Martelli, Miss McNeill, Lauren Burrows and Andy Linford who have either coached or umpired for all three teams this year. Thanks also to the parents who come to support; the players greatly appreciate this.
DMcN
---
2nd XI
It has been a bit of a rollercoaster for the 2X1 this season. A successful rollercoaster… but a rollercoaster nonetheless. The season started with a focus on forming a strong team. Older players moved from various teams and the junior players made the big transition from U14 to Senior hockey. The final outcome resulted in a brilliant range of pupils from each year between 11 and 14.
The season didn't quite start off as we had planned. There were a few losses, multiple draws and not so many wins to begin with! Soon enough everything started to fall into place. As we all got closer and more acquainted with one another we began to play as a team rather than a group of individuals and the right results finally started to come along. The match that gave the team the boost of confidence we desperately needed was a 5-0 win over Antrim Grammar. Everything we had been working on in training finally clicked. We successfully passed, kept possession and scored consistently throughout the game. With a goal from our captain Phoebe Mcilroy, 3 from Lucy McAllister and a brilliant first goal of the season from Olivia Drain. The bus journey home was an extremely joyous one!
We had a commendable run in the league with many points gained throughout, however I think we all agree it was the Plate that held more significance for us this year. After an extremely tense Plate Quarter Final against Carrickfergus, the end result was still a draw – so it was time for penalty runs! After two fabulous goals scored by Shannon Warwick and Maisie Gibbs we progressed to the semi-final. Unfortunately, a strong Sullivan team took the win at the semis but we were all proud of the stage we had got to and the combined team effort which had got us there. On behalf of everyone I can say the coaching efforts put into our hockey this year were second to none. Paul Cooke and Becky Linford's dedication and commitment throughout the year helped us all to reach our full potential as a team… we couldn't have done it without them!
Towards the end of the season, we faced a tough Dalriada team and were losing 2-0 at quarter time. But never once did we give up and after a lot of challenging play we ended up on top with a 4-2 victory. I think this result in particular showed the spirit of the 2X1 this year. We always gave it everything and didn't give up without a fight! It has been a brilliant year of hockey, developing new friendships and having fun. We can only look forward with great anticipation to next year!
---
3rd XI
The 3rd's had a successful season overall this year, winning 13 of the 17 matches played, drawing 1 and losing just 3. With the largest number of senior girls ever playing hockey this year, it took a while for all of the squads to get settled which was reflected in a few inconsistent results at the start of the season. Once the squad was established, however, the team started to gel and were averaging 3 goals a game with Georgina Cherry topping the goal scorers' list.
After an impressive run of wins in friendly matches against Coleraine Grammar, Larne Grammar, Dalriada, Methody, Lagan College, Wallace High and Carrickfergus Grammar, the girls faced Coleraine Grammar in the 2nd round of the Gibson Cup. Having comfortably beaten them 5-1 in a friendly earlier in the season, the girls went into the match feeling confident. However, this was a cup match and a very different Coleraine team to the one played previously and they were not going to give in without a fight. In challenging weather conditions that matched the atmosphere of the game, both teams fought hard to get control of the game. Our girls created more chances during the match but just couldn't find the finishing touch in the circle and the game ended 0-0 at full time, taking it to penalty runs. After some fantastic saves from Lydia Wilson in goals, it was two of the younger players, Anna Coid and Kristen Kelly, who held their nerve and stepped up to put their efforts away and win the game 2-0.
Royal School Armagh were the next opponents in the quarter-final and they got off to a good start, scoring a break away goal in the first quarter of the game to go 1-0 up. Despite us dominating the remainder of the game nobody could convert any of the chances created and the game ended 1-0 to Armagh to bring our cup run to a disappointing end. Even though this outcome was not what we had hoped for, the improvement shown by all of the players during the season more than made up for it. This was made possible under the expert coaching and guidance of Miss Doyle. The girls would like to say a special thanks to her for everything she has done for them this year. We also wish our captain, Alex Bonar, well as she moves on and hopefully continues playing next year and beyond.
DMcN
---
4th XI
Despite a tough start to the season, with a couple of early losses to Ballyclare High and Coleraine Grammar, things started to pick up after a good win against Methody in the third match. This was the start of a 7 match winning streak where we scored 17 goals and only conceded 1 with Evie Millar, Cassie Liggett and Amy McAlister scoring regularly. Within this period, the girls played their quarter-final cup match against Banbridge Academy and they put on an accomplished display of hockey to win the game comfortably 4-1. This set-up a semi-final against Friends School Lisburn which we knew was going to be a much tougher encounter. Friends dominated possession throughout most of the game and created a lot of scoring opportunities. However, they were faced with a 'brick wall' of Lydia Wilson in goals and Marion Farquhar in defence. No matter what Friends threw at us, they blocked and with the help of the other players, we saw out the game to take it to penalty runs. Once again, Lydia Wilson was superb in goals, saving the first 3 efforts from Friends. Evie Millar and captain Jo-Jo Andrews then became the heroes by scoring their run-ins to win the match 2-0 and take the team into the cup final.
Strathearn were the opponents and they had taken some of the 'big names' out on their way to the final so we knew this was going to be a challenging game. The girls had prepared well and from the first whistle, they took control of the game, creating some early goal scoring opportunities. Strathearn, however, were dangerous on the counter-attack and had a few chances of their own. Our girls played well as a team and were linking up well to create some lovely attacking moves but, on this occasion, we just couldn't find a goal to get the breakthrough. This would come back to haunt us as Strathearn then went on another counter-attack and got the first goal. Our girls gave everything to try and get a deserved equaliser and had several penalty corners towards the end of the game. Despite all of their efforts, however, we just couldn't find the finishing touch and the game ended agonisingly at 1-0 to Strathearn. The standard of play demonstrated by both teams was a credit to all of the players and their coaches. On that note, a special thanks must be given to Miss Doyle and Miss Martelli who worked with the team throughout the season to develop their skills and match play. There was never a dull moment with plenty of laughs along the way but the team were able to do the job when it mattered, winning 11 and drawing 1 of the 16 matches played this season. This is a very young team of Year 11 and 12 players who have developed so much this year and we look forward to working with them all next season.
DMcN
---
U14A
Squad: Denisa Timuc, Natalia Skrobakova, Rachel McDowell, Erin Robinson, Katie Gardiner, Hannah Ramsey, Ruby Chambers, Georgia Marshall, Charlotte Campbell, Fionn Henry McCool, Emma Livingstone, Nadine Roddy, Maia Malcolm, Katie Allen, Evie McKeown, Sarah Livingstone, Rachel Graham, Amy Coleman.
Following 2 years of lockdowns and COVID restrictions the girls were extremely excited about returning to play hockey this year. This was a very successful season for the U14 Hockey Squad, with some excellent results against very strong opposition, winning 9 games, drawing 5 and losing 5. The team progressed into the second round of the Junior Schools' Hockey Cup beating Antrim Grammar 5-0 and narrowly missed out on reaching the third round, losing on penalty runs to Rainey Endowed. The team met Carrickfergus Grammar School in the Quarter Finals of the Junior Shield, winning on penalty runs and progressing into the Semi-finals, unfortunately losing in penalty runs to Wallace High School.
Congratulations to the several players from U14 who were selected for Ulster's Talent Development Programme: Denisa Timuc, Fionn Henry McCool, Nadine Roddy, Emma Livingstone and Sarah Livingstone. Both Emma Livingstone and Nadine Roddy were selected for Ulster U16 trials and have been asked to represent Ulster in a regional teams festival on the 22nd May 2022.
---
U14B
A very successful year for the Under 14B team this year, the girls showed great enthusiasm in training and worked extremely hard developing their skills and fitness levels.
Despite interruptions due to Covid the team remained focused and determined when playing strong oppositions, with some excellent results against Cambridge House, Strathearn and Ballyclare High.
---
U13A and B
Despite having had very little hockey in Year 8, the Under 13 A and B teams had a very successful season, captained by Isabella Gregg and Susanna Quigley respectively. The 'A' Team played 19 matches, winning 8, drawing 5 and losing 6. Their top goal scorer was Isla Kearney with 9 goals. The 'B' team played 14, won 12, drew 1 and only lost one match throughout the whole year. Top goal scorer award was shared between Megal McGarel and Chloe Wylie with 10 goals each. In the Derry and Antrim League the A team won 5 out of 7 games, scoring an amazing 23 goals to finish second overall. The 'A' and 'B' teams' success was as a result of an outstanding attitude to both practice sessions and Saturday matches. Their unity and fighting spirit was commendable, developing individual skills, game play and set pieces. I hope the girls have enjoyed playing hockey and representing their school as much as I have enjoyed coaching them. Thank you to Miss McNeill for helping with after school coaching and for organising all the fixtures this season.
Mrs M Glass