Cricket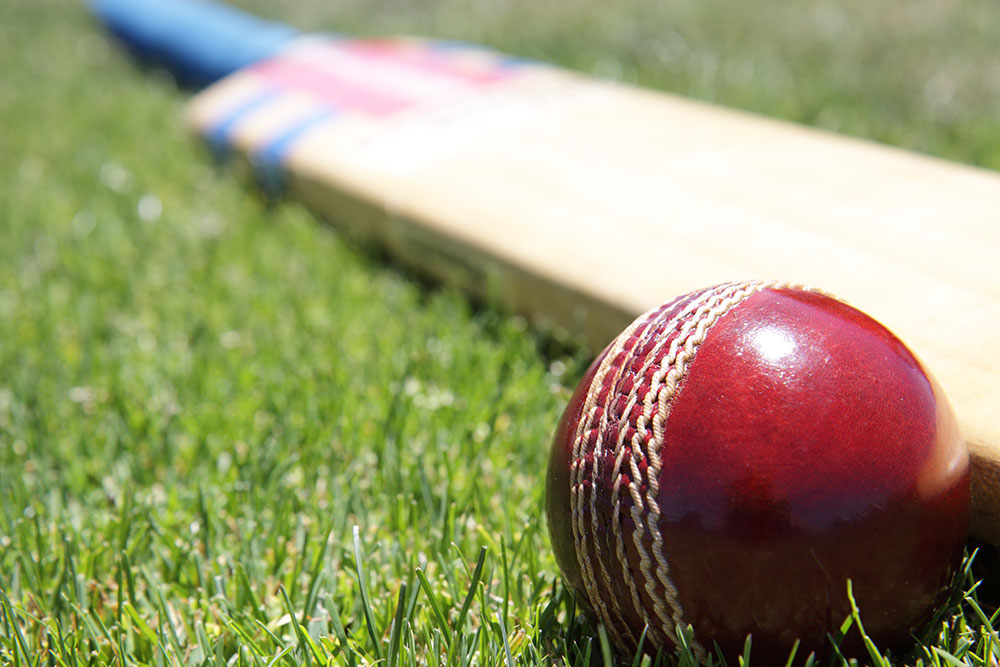 Senior Cricket Report 2022
Overall, the school had a very successful cricket campaign that was capped by a memorable Schools' Cup run. We kicked things off with a first round match away to Campbell 2s. Having won the toss and elected to field, the bowlers put in a disciplined display, taking timely wickets throughout, with Harry Caithness taking 2, to keep Campbell under control. However, some late order hitting from the hosts brought them to a very respectable score of 122 of 25 overs. This seemed a very long way away when Campbell struck twice within the opening overs, bringing Ryan Mckenna to the crease alongside Peter Bristow. Mckenna counterpunched in spectacular fashion, striking many boundaries before agonisingly being dismissed for a belligerent 49. He was ably supported by a typically solid innings of 23 from Bristow. Sam Mcdonald ensured there would be no final hiccups as he finished things in style with a monstrous six.
There was another away trip in the second round against Antrim Grammar. After Peter Bristow struck on the very first ball, Antrim put together a very strong second wicket partnership as we struggled to contain the flow of runs. Mcdonald and Euan Watt were introduced to the attack and bowled fine spells, picking up key wickets and ensuring that there would be no grandstand finish. Antrim did still finish on an intimidating score of 132 from their 20 overs. However, the target no longer looked so intimidating when Mckenna strode to the crease, continuing his fine form in a brilliant innings of 70 that contained many lost balls as he cleared the boundary time after time. Bristow finished on an unbeaten 29 as we won by 9 wickets.
The quarter final brought about a stern test against Methody at home. Bowling first once again, Mckenna opened up with a rapid spell, prising 3 important early wickets. These ensured that Methody never quite got into top gear, eventually ending on 110 from their 20 overs. Opening the innings, Peter and Stevie Bristow strung together a fluent partnership, rotating strike and running hard between the wickets to ensure that Methody never had a sniff of defending the target. The brothers put together an unbroken stand of 111, with Peter finishing on 53 and Stevie on 43 to advance into the semis.
There we faced an extremely strong Campbell College side, the eventual winners of the tournament. Nevertheless, we put up a very strong bowling display with each bowler keeping things tight to restrict them to a very chaseable score of 103. The ever-consistent Mcdonald was again the pick of the bowlers, taking 3 wickets as we struck consistently. Unfortunately, for the first time all season the batting lineup failed to fire. We lost several soft wickets, with no batsman getting going and we eventually fell well short of the target. Despite this, the season was still a great success, with a great group of players and a cup run that surpassed pre-season expectations.
U13 Cricket Match Reports
Ballymena U13's (67 all out) lost to Sullivan Upper (146/7)
The Under 13 cricket team's opening match was against Sullivan Upper at home. Sullivan batted first and scored 146 runs in their 20 overs. For many of the Ballymena team this was their first game of cricket. There were commendable bowling performances from Alfie Maclean, Rob Kelly and Leo Smyth who all took wickets. There was also a notable catch from Jeremiah Gallagher and a good run out by Luke McCallion. Ballymena got off to good start batting, with Matthew McKeen and Rob Kelly withstanding some fast bowling from one of the Sullivan bowlers who plays for Ireland. There were also respectable performances with the bat from Dan McKeown and Tom McKeown, but Ballymena were bowled out for 67 with the win going to Sullivan.
Ballymena U13's (35 All Out) lost to Carrick 35/6 (Cup Match)
This was an agonisingly close defeat for Ballymena. Carrick batted first, making 36 runs. The wickets were taken by Jack McCrickard, Leo Smyth (2) and Luke McCallion who amazingly took a hattrick. In reply, the Ballymena wickets tumbled. Leo Smyth steadied the ship somewhat, taking the match into the last over but unfortunately Ballymena were bowled out with only one more run needed to win.
RBAI U13's (132/3) defeated Ballymena U13's (29 All Out)
A very strong Belfast Inst team batted first, scoring 132 runs for 3 wickets which were bowled by Billy Wylie, Leo Smyth and Mathew McKeen. There would have been more wickets but for many dropped catches. The Ballymena team, with a lot of players still new to cricket, played bravely against a vastly more experienced team with many good players. The Ballymena boys were bowled out for 29 but gained a lot of valuable experience during difficult rainy conditions.
Special thanks to our coach, Liam Peters, who has helped many of the Under 13's to learn to play cricket for the first time, with many players improving significantly in a short period of time.

U12 Cricket Report
This season saw the return of school cricket to Ballymena Academy after a two-year absence due to the pandemic. Cricket sessions began for the U12s with morning indoor practices which focused on the key skills of bowling, batting, and gameplay. With over 20 boys attending each session, it was great to see such a strong interest for the students in Year 8 to get playing cricket for Ballymena Academy. These indoor sessions were great preparation and resulted in many talented and keen cricketers all eager to represent Ballymena Academy.
Due to the impact of the covid-19 pandemic, several of the Year 8 students had never played cricket before and so the focus for this season was to get as many boys introduced to cricket and give them the experience of batting and bowling in a match. Cricket training was led by Mr Liam Peters from Ballymena Cricket Club and Mr McClelland, who both believed it was important to give as many boys as possible the opportunity to bat and bowl to develop their skills and not necessarily to prioritise winning every game.
There were numerous outstanding individual performances throughout the season – both Tom McKeown and Daniel McKeown bowled magnificently and consistently, Alfie McKay, Toby Devine and Joel Graham bowled with pace and accuracy, Reuben McDowell, Daniel Russell and Paul Millar also caused several issues when bowling. Our batting was less consistent, however there were notable innings and stand out performances from John Ireland, Tom McKeown, Daniel McKeown, Scott McCluskey, Joel Graham, Reuben McDowell and Luke Thompson. Our fielding also had moments of brilliance from Patrick Johnston, Daniel Johnston, and Henry Montgomery.
The U12s started the season with a few boys involved in an U13 League match against Sullivan Upper. This match ended in defeat for Ballymena, but it was a great learning curve for many of the boys who were playing their first ever cricket match. The U12s were drawn at home to an RBAI "A" team in the U12 Schools Cricket Cup. This was one of the toughest draws Ballymena could have got but it did not stop the boys going into the game with real enthusiasm and eagerness to put their newfound skills into practice. Unfortunately, RBAI were convincing winners on this occasion as their experience shined through. The U12s were then drawn against Foyle College in the Plate Competition. This was a very close match and one in which the Ballymena boys will feel they let slip away as it unfortunately ended in defeat. The season ended on a high with a few of the U12s playing in an U14 League match vs Regent House. The match finished with a convincing win for Ballymena Academy with the U12s standing out.
The boys have played this season with great character, determination, and sportsmanship. They were a credit to their school and many of them have now joined Ballymena Cricket Club to further develop their skills for next season.
Mr D. McClelland