Senior Windband
Senior Windband meets every Tuesday after school for Senior wind, brass and percussion players at Grades 5-8. We play an amazing selection of Concert music – from 'Game of Thrones' to 'The Great Escape'. We also have great fun playing at Christmas and Spring Concerts.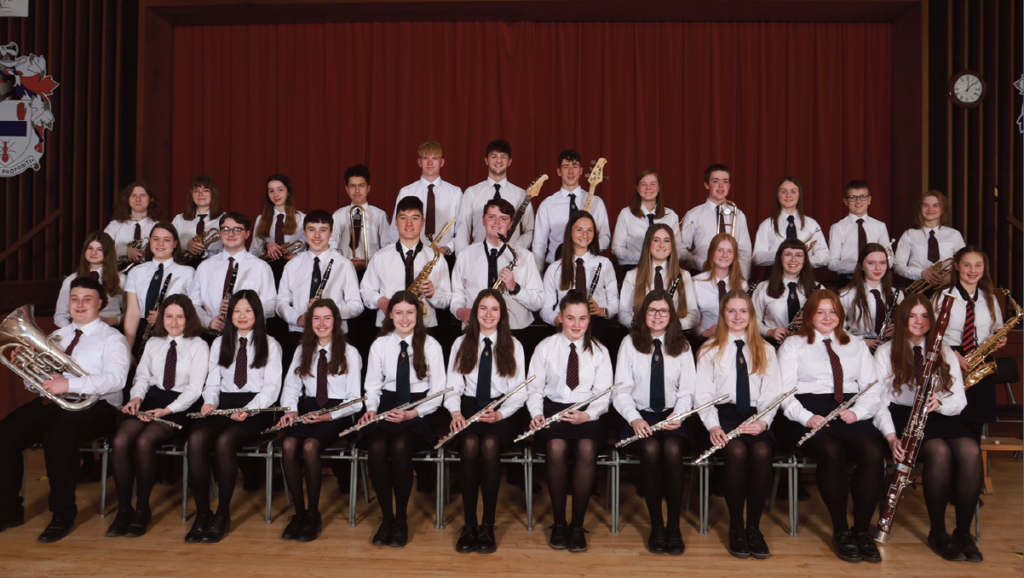 Easily a highlight of the week, Senior Wind Band made a pleasing return to in-person rehearsals this year. After virtually recording 'The Mandalorian' for the Virtual Summer Concert in 2021, more 'normal' rehearsals started to gradually return in September. I can speak for all in saying we were excited and interested as to what Senior Wind would look like after COVID.
Starting in September, every Tuesday after school, a large group of students met in the Minor Hall from 3.30-4.15 to play various wind and brass instruments. The year's first performance was at Christmas. Normally we were able to perform a concert in front of many primary school students, with a wide range of pieces. Unfortunately, COVID restrictions at the time meant we were unable to do this in person. Thankfully, under the leadership and initiative of the music department, we could adapt to restrictions and use technology and the internet. We recorded a virtual concert, including the rock inspired "Deckin' the Halls," a medley combining well known carols, with elements of jazz, blues and improvisation. The really lively of the music was helped even more by the accompaniment of instruments like electric guitar, keyboard, bass and drum kit, with improvised rhythms to fit with the genre of the piece.
As Spring came, the band were delighted to hear we could perform 'in-person' again, as restrictions lifted. In the two nights of the Spring Concerts at the Braid, we performed "Kinetic Dances," a technically challenging, rhythmic high-energy concert piece, which had contrasts in rhythm and instruments throughout, always moving and driving the music forward – hence the title. However, the crowd favourite was an arrangement of the recent hit song "Don't Start Now," by Dua Lipa. This well-known pop song is one in which, like "Kinetic Dances", the arrangement is written so all instruments could receive spotlight moments. "Don't Start Now," was enhanced by use of electric and bass guitars and drum kit to add to the pop feel and get the audience tapping their feet.
Both pieces were highly enjoyable to play and to listen to and definitely contributed to the real buzz and excitement of our Spring Concerts for everyone taking part and watching. On behalf of the Senior Wind Band, I would like to thank our talented conductor Mr Murray for his hard work and dedication to our ensemble, alongside the rest of the Music Department staff.
Daniel Cruikshank Year 13