Junior Windband
Junior Windband Meets every Thursday after school. It is for woodwind players at Grades 1-4. We play lots of jazzy and upbeat music for Christmas and the Spring Concerts, including music from Films and Musicals and recent pop hits.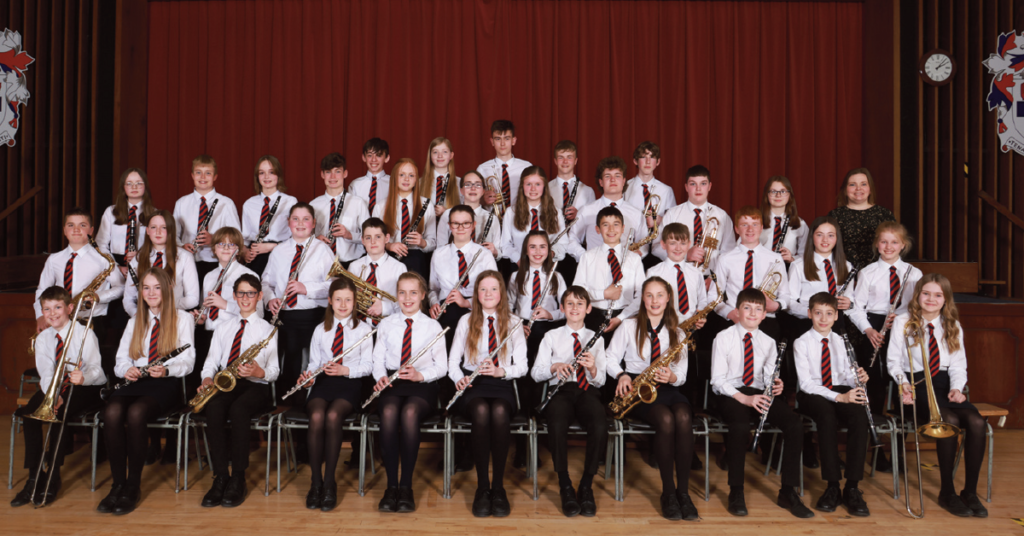 The Junior Wind Band meets every Thursday and is by far my favourite after school activity. It's a chance to meet up and chat with friends and Miss Wilkinson's enthusiasm makes the wind band even more enjoyable. In the first term and while under strict Covid regulations, our rehearsals focused on preparing music for recordings of festive tunes to be sent out to local Primary Schools as our contribution to the Virtual Christmas Concert. We joined up with Junior Strings to form an orchestra to perform Howard Blake's "Walking in the Air" from the animated Christmas classic "The Snowman".
The combined group then recorded a video in the Assembly Hall, suitably decked out with Christmas trees and tinsel under Mr Thompson's artistic direction. Although we totally nailed it on the first take, technical issues (the camera wasn't recording!) meant we had to go for take two. Fortunately everything worked fine the second time around.
At the 2022 Spring Concert in the Braid Arts Centre, the Junior Wind Band played a catchy arrangement of the popular song 'Havana' by Cuban-American songwriter Camila Cabello. This was so much fun to play and was enhanced by groovy trumpet parts and choreography performed by the clarinet section. Our conductor, Miss Wilkinson, got us into the spirit by dancing a tango across the stage just before the curtain rose, which was absolutely hilarious!
Playing my clarinet in the Spring Concert has definitely been the highlight of my school year and I will really miss being part of the Junior Wind Band.
Rowan Murray Year 10